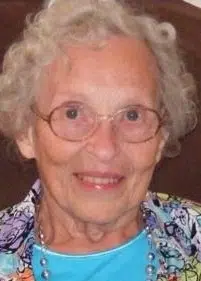 Carolyn June Hampsten, 87, of McCordsville, Indiana, formerly of Yale, Illinois, went to be with the Lord on Sunday, August 7, 2016.
Carolyn was born on June 18, 1929 to the late Verl and Inez Huddlestun.  Carolyn married Cleon Hampsten on April 10, 1945.  He preceded her in death on September 24, 1995.  Together they were blessed with three children, Donna (Mike) Snyder; Terry (Jeannie) Hampsten; and Jan (Tom) Dowland.   She has been a wonderful grandmother to her seven grandchildren, Shawn (Connie) Mitchell;  Michelle (Brett) Witzig; Michael (Lisa) Hampsten; J.C. (Dora) Hampsten; Misti Dowland (Doug Stamps); Josh (Kim) Dowland and Andy (Anne) Dowland; and two step-grandchildren, Jen Snyder(Linda Borchew) and Chris (Amy) Snyder; her 15 great-grandchildren and 5 great-great grandchildren, along with 4 step-great-great grandchildren.
Carolyn was a homemaker who loved to garden and made wonderful chicken and noodles, pies and her homemade canned goods were so amazing that everyone fought over them at Christmas time as they were prized gifts to receive.  She was also well known for her persimmon cookies.  She enjoyed antiquing, collecting salt dips, and would make lovely needle point gifts for her family, which are cherished.  Carolyn loved her family and enjoyed spending time with them.  Nothing made her happier than being around her children and all of her grandchildren.  She lived a life of service to others, taking care of many extended family members, friends and loved ones throughout her life.
The visitation honoring her life will be at Barkley Funeral Chapel, 300 N. Kentucky Street, Greenup, Illinois on Thursday, August 11, 2016 from 1:00 – 2:00 p.m. with funeral services directly after.  Burial will be in the Yale Cemetery in Yale, Illinois.
Online condolences can be expressed at www.barkleyfuneralchapels.com