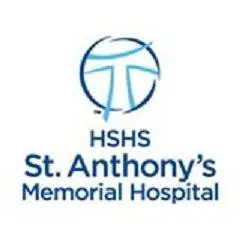 The HSHS St. Anthony's Foundation 8th Annual Golf Benefit held July 15 at the Effingham Country Club was a big success.  The event, which evolved through a partnership with Jonathan Kabbes and "Golf for a Cure" held in 2009 and 2010, netted $35,600 to benefit Emergent Care across HSHS St. Anthony's Memorial Hospital's spectrum of services.
Proceeds will be combined with the funds raised during last year's Golf Benefit to purchase the EMS CAREpoint Workstation – a key component of communication between our land and air ambulances and medical teams – and as funds allow, an AutoPulse Cardiac Support Pump/CPR Board.
"Holes for Heart Care", held at the Effingham Country Club, included 128 golfers, 141 sponsors/donors, and 48 volunteers.  The event included many exciting activities and outstanding golf.  Prior to a Noon tee-off start, Dr. Ryan Jennings, HSHS St. Anthony's Chief Medical Officer, welcomed the golfers, thanked the sponsors, and concluded his remarks with a prayer.  The golf event also included a variety of activities on the course, such as "EKG Closest to the Line", three holes/cups to aim for on one green, longest putt, longest drive, closest to the pin, and a putting contest.  Other highlights include a "bags toss" game for prizes hosted by Air Evac Lifeteam, a CPR demonstration, and the landing/departing of the Air Evac Lifeteam helicopter.  One member of each foursome was awarded a $100 gift card to an area food or service provider.  Following 18 holes of golf, the golfers enjoyed dinner, presentation of awards, and the drawing of the raffle ticket items in the clubhouse at the Effingham Country Club.
The First Place Low Gross winning team was the National Bank team of Matt Koester, Gary Greene, Chuck Schumacher and Bob Huey.  The Second Place Team was the Verizon Wireless of Newton and Flora team of Seth Wilson, Brian Gaddis, Tyler Arnold and Jake Bushue.
Some of the other contest winners were:
Longest Drive (Men) – Jake Bushue
Longest Drive (Ladies) – Jocie Devlin
Closest to the EKG Line – Larry Tish
Closest to the Pin – Devon Dean
Longest Putt – Michael Smith
Putting Contest – Michael Smith, John Richards, Mitch Sager and Mitt Sauer
Skins Game Team Winners – National Bank and Dan Hecht Chevrolet-Toyota
Air Evac Lifeteam Firefly Gift Card Drawing – Jessica Drake
Raffle Package Drawing with various prizes were won by the following people:
French Lick Resort Overnight Stay & Golf (donated by French Lick Resort) – Gary Swearingen
Titleist 915 D2 Driver (donated by Krouse Pro Shop) – Dean Bingham
Six Flags St. Louis Tickets and Gift Basket (donated by Six Flags St. Louis) – Tracy Willenborg
Louis Cardinals vs. Chicago Cubs Tickets (donated by Dan Hecht Chevrolet-Toyota) – Ted Albers
Luke Bryan Farm Tour VIP Concert Tickets (donated by Friends of the Foundation) – Carolyn Myers
Live Auction Winners
St. Louis Cardinals vs. Cubs Tickets (donated by Jill and Brian Ruholl) – Matt Sager
Old Dominion Concert Tickets (donated by Pepsi MidAmerica) – Matt Koester
Joe Fearday, Foundation Leadership Council Chairperson, expressed his thanks. "We are blessed to have the overwhelming support of our community to strengthen and grow our ministry of healing to those we serve.  We are so pleased with the support given to this event, which permits the hospital to have advanced services and state-of the art equipment available to serve the individuals and families throughout our service area," he said. "We are very grateful for our sponsors/donors, volunteers, and those individuals participating in many ways the day of the event. An idea which originally started as service project developed by Jonathan Kabbes as a way to "give back" to Effingham has now grown into a full scale community event."
A special thank you to our Lead Golf Benefit Sponsors for their generosity:
Listen to Your Heart Sponsor
Achy Breaky Heart Sponsors
Agracel, Inc.
CIRA (Central Illinois Radiological Associates, LTD
Consolidated Communications
ARCH/Air Medical Service
Heartland Dental
Hodgson Mill
Swingler Construction
Walmart
Meal Sponsors
Sodexo
Linders Limited/McDonald's
"Putt" A Little Love in Your Heart Sponsors
Culture Frozen Yogurt Lounge
Dave Roepke Painting, Inc.
Donnewald Distributing Company
Grunloh Construction Inc.
J & J Ventures Gaming
JCCI/Jansen Cable Construction, Inc.
Jim and Lulu McDaniel Family
Sign Sponsor
The HSHS St. Anthony's Foundation extends a special thank you to Tim Krouse, Nick Schuette, Mike Jones and their team at the Effingham Country Club for hosting the event.
Michael Wall, St. Anthony's Director of Philanthropy, shared his gratitude to all those involved with the Golf Benefit.  "I would like to extend congratulations to all those involved with the Golf Benefit: whether you golfed, were an event sponsor, promoted the event, recruited sponsorships, volunteered, or stayed at the hospital to serve our patients and colleagues, you were a valued part of this winning team," Wall said.  "A special thanks to Joe Fearday, Dr. Chuck Schumacher, and Jerry Hecht for their valued assistance coordinating the "Holes for Heart Care" event that combined a fun day with providing awareness to our community regarding the number one cause of death in the United States…Cardiovascular disease."
For more information about the HSHS St. Anthony's Foundation, contact Michael Wall, Director of Philanthropy, at (217) 347-1854 or email Michael.Wall@hshs.org, or visit the hospital's web site at stanthonyshospital.org. HSHS St. Anthony's Memorial Hospital is part of the Southern Illinois Division of Hospital Sisters Health System, which also includes HSHS St. Elizabeth's Hospital in Belleville, HSHS St. Joseph's Hospital in Breese, HSHS Holy Family Hospital in Greenville, and HSHS St. Joseph's Hospital in Highland.