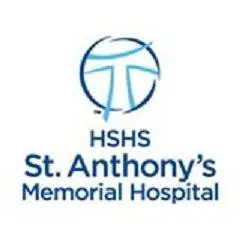 HSHS St. Anthony's Memorial Hospital recently welcomed Cory Hess, ACNP (Acute Care Nurse Practitioner) to serve as the Nurse Practitioner for the Surgical Services department.
Hess will be providing services to pre-surgical patients in St. Anthony's new Pre-Surgical Testing Clinic located in the hospital's previous Physical Rehabilitation area. He will be conducting History and Physicals for out-of-town surgical patients, prior to emergency surgeries, or those who don't have a family doctor.
Hess graduated with his Masters of Science in Nursing, ARNP, Acute Care from
St. Louis University.  He has specialty certification in Critical Care Nursing (CCRN) from the American Association of Critical Care Nursing (AACN). He also completed a Critical Care Fellowship at St. John's Mercy Medical Center.  He has a Certificate of Advanced Trauma Nursing and has had Crisis Prevention Intervention Training as well.  He also is a Basic Life Support Healthcare Provider and Advanced Cardiac Life Support (ACLS) trained from the American Heart Association.
Community members needing a History and Physical can make an appointment with Hess by calling 347-1504. For more information about the services provided by St. Anthony's Surgical Services department, visit St. Anthony's Web site at stanthonyshospital.org.  HSHS St. Anthony's Memorial Hospital is part of the Southern Illinois Division of Hospital Sisters Health System, which also includes HSHS St. Elizabeth's Hospital in Belleville, HSHS St. Joseph's Hospital in Breese, HSHS Holy Family Hospital in Greenville, and HSHS St. Joseph's Hospital in Highland.