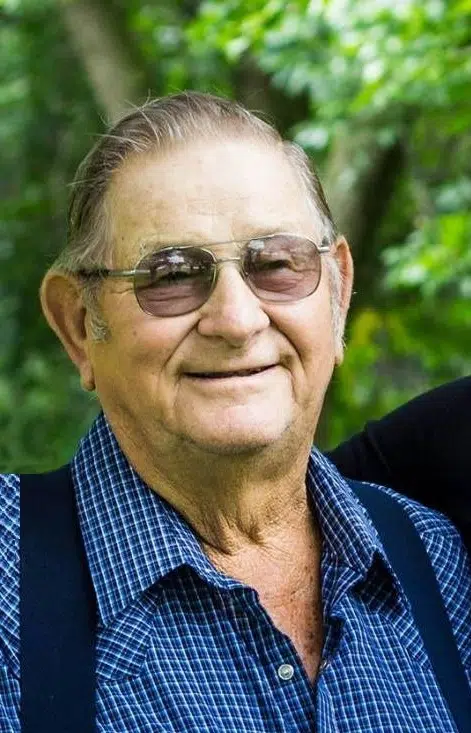 Jimmie Joe "Turk" Sowers, 81, of Toledo, Illinois passed away at 10:40 am on Monday, August 29, 2016 at his residence.
Funeral services will be at 4:00 pm on Sunday, September 4, 2016 at the Toledo Christian Church. Visitation will be from 1:00 pm until the service time. Burial will be in the Toledo Cemetery. Barkley Funeral Chapel in Toledo is assisting the family.
Jim was born on September 23, 1934 in Cumberland County, the son of Benjamin and Jennie (Marrs) Sowers. He is survived by children Debbie Johnson of Effingham, Becky (Larry "Pupper") Heuerman of Montrose, Christie (Greg) Ervin of Toledo, J.B. (Lisa) Sowers of Toledo and Jeff Sowers of Greenup; brother Bennie (Phyllis) Sowers of Toledo; sister Lois (Ronnie) Collins of Toledo; grandchildren Korey (April) Russell, Dustan Oakley, Cody Johnson, Chase Johnson and Chelsea Sipes, Woody (Kelly) Heuerman, Kendall, Katelin and Kallee Heuerman, Kylee Ervin, Cole (Season) Ervin, Taylor, Tanner and Dalton Sowers, Casey (Jake) Repking; great grandchildren Connor, Kiersten, Caleb, Ashton, Mason, Jaden, Dayton, Raegan, Rhett, Sophia, Owen, Isabella, Elliot, Jett, Judd, Eve and Elsie; great great granddaughter Eleanor. He was preceded in death by his parents, brothers Gerald Ray, Millard, Emil and Johnnie Sowers; sisters Madonna McKinley and Frankie Aleshire and a great granddaughter, Chandra.
Jim was a lifelong farmer and also worked for Howell Asphalt for over 30 years.  He was a hardworking man; a loving father and grandfather. He loved spending time hunting, fishing and camping. Jim's dedication to work and his family will be remembered for years to come. He was a member of the Toledo Christian Church. In lieu of flowers, memorials may be made to the Toledo Christian Church. Online condolences can be expressed at www.barkleyfuneralchapels.com