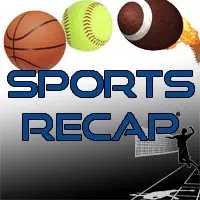 Western Illinois spoiled the season-opener for the EIU Panthers football team. The Leathernecks pulled away for a 38-21 win at O'Brien Field. The Panthers committed three turnovers in the defeat.
Boys Soccer: Mattoon was a winner over Champaign Central 4-3; Alton beat T-Town 5-0; St. Anthony shut out Olney 3-0; Effingham took down Vandalia; Altamont beat Newton
Boys Golf: Tri-County beat Windsor in a dual meet. Logan Richardson led the way for the Titans with a 39; Arcola won its triangular over Villa Grove and Oblong–Clayton Miller shot an ever-par 35 for the Purple Riders;
Volleyball: Tri-County was a straight-set winner over Arcola; Newton swept Effingham; Windsor/Stew-Stras beat Cumberland in two games; Arthur-Lovington/Atwood-Hammond swept Villa Grove; Neoga topped Okaw Valley 27-25 in the 3rd set; Mattoon outlasted Shelbyville in 3 games.
Girls Tennis: Mattoon beat Casey-Westfield 6-3; T-Town swept Greenville; St. Anthony topped Robinson 8-1.
Addison Russell's two-run single in the seventh pushed the Cubs to a 5-4 win over the Giants.  Dexter Fowler had two runs and two hits for Chicago.  Joe Smith got the win in relief and Carl Edwards Jr. earned his first MLB save.  Chicago has won four in-a-row.
The Twins stopped their 13-game losing streak with an 8-5 win over the White Sox.  Jose Abreu and Todd Frazier homered for Chicago, which has lost its last four.  Jose Quintana allowed seven runs in only five innings to fall to 11-and-10.
49ers quarterback Colin Kaepernick is continuing his protest against racial injustice by refusing to stand for the national anthem.  Kaepernick chose to kneel during the playing of "The Star Spangled Banner" before last night's preseason game against the Chargers in San Diego.
Patriots quarterback Tom Brady heads into his suspension with plenty of reps.  Brady played the entire first half of New England's 17-9 loss to the Giants.  He will miss the first four games of the regular season for his role in the "Deflategate" scandal.
Tenth-ranked Tennessee is breathing a huge sigh of relief.  The Volunteers escaped with a 20-13 overtime win over Appalachian State in the season opener for both teams in Knoxville.  The near-upset came nine years to the day Appalachian State shocked then fifth-ranked Michigan.
Tonight: Charleston High School football at Mt. Vernon on Victory 103-9. Mattoon High School football at Mascoutah on 101.3 WMCI. On Saturday at 7pm, Tri-County football at Arcola on 92.1 The Axe. All games are online at myradiolink.com and with our my radio link mobile app.