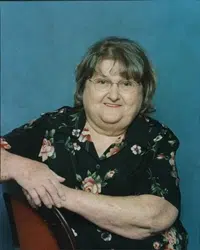 Ruth J. Niccum, 78, of Beecher City, passed away Monday, September 5, 2016 at Evergreen Nursing and Rehabilitation Center in Effingham with loved ones by her side.  She was born April 14, 1938 in Beecher City the daughter of Charles R. and Edna V. (Doty) Sparks, Sr.  She married Charles E. Niccum Sr. on April 20, 1957, he preceded her in death on May 27, 2013.
Ruth worked as the Beecher City Village Clerk for several years.  She enjoyed spending her time babysitting the children of Beecher City, working with her hands whether it was sewing, quilting or embroidering.  Ruth was a loving wife, mother and grandmother who loved spending time with people but especially her grandchildren.
Ruth is survived by sons Ed (Angie) Niccum Jr. and John (Dinah) Niccum; daughter Judi (Jay) Bell; seven grandchildren Jessica (Niccum) Forbes, Eddie Niccum III, Kelsie Niccum (Jaxon), Christopher Niccum, Trisha (Bell) Ratliff, Jade Bell and Dalanie Bell; three step-grandchildren Dylan Reed, Elizabeth Reed and Dylan Mason; eight great-grandchildren Brayden Christianson, Annabelle Niccum, Eli Niccum, Shane Niccum, Tyler Niccum, Raiden Ratliff and Rowan Ratliff; three sisters Carolyn Furnish of Kokomo, IN, Delores (Ron) Frazier of Heyworth and Ruby Ferguson of Decatur.
Ruth was preceded in death by her parents, husband, brothers Jack Sparks and Charles Sparks Jr.
Funeral service will be 10:00 a.m. Monday, September 12, 2016 at the Evangel United Methodist Church in Beecher City with Reverend Paul Bauer officiating.  Visitation will be Sunday, September 11, 2016 from 4:00-7:00 p.m. at the church.  Burial will be in Hubbartt Cemetery, Beecher City.  In lieu of flowers memorials may be made to St. Judes Children's Hospital.  Lockart-Green Funeral Home, Beecher City is assisting the family with arrangements.  Ruth's family invites family and friends to share a story or light a candle in her honor at www.lockartgreenfuneralhome.com.