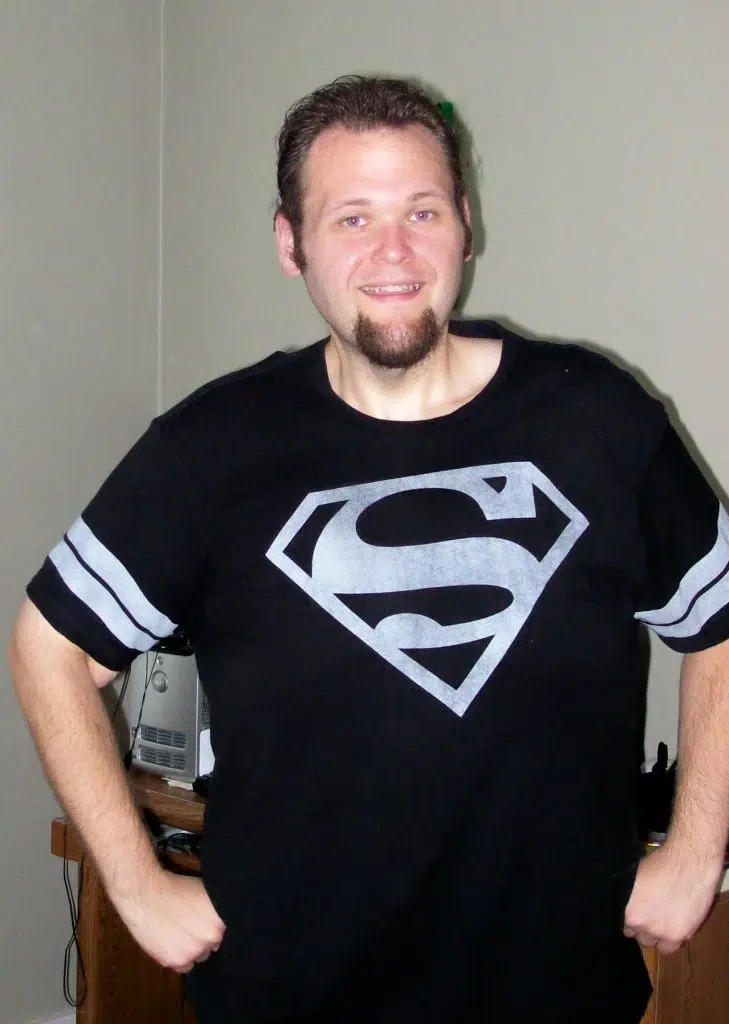 A little over a year ago, when I was only a few months into my weight loss journey with Sarah Bush Lincoln and HMR, I was enjoying some success and seeing some weight drop off, which I had never seen happen to me in my entire life up to that point.
So, in true nerd that I am fashion, I went out and bought myself a Superman shirt to showcase on the outside how I was feeling about myself on the inside. It was a 3XL, and was a tad bit snug, but it fit. And it was the first time a 3XL had fit me in quite a while.
Well, that Superman shirt is not the one you see me wearing above. Nope, that 3XL shirt that I was so happy to get, I only actually got to wear it about 2 or 3 times. Because I was on a rockin' bullet-train of success with HMR and I shot right past the weight where I needed a 3XL and now, when I put that shirt on, it's like wearing a circus tent. The one you see me in above is a newer shirt and only a XL (and a bit of a loose fitting XL at that.)
Yes my friends, the struggle is real! When you have success in weight loss, you have to get rid of all your old clothes and buy all new! But talk about a struggle that I was overjoyed to have! I recently attended a wedding and I'm not normally much of a "dress up" kind of person, so I haven't had any occasion to dress formally since I've lost weight. And it dawned on me that I had nothing even slightly dressy to wear to the wedding. Had to get a nice new shirt and even go raiding my dad's closet a little bit (he and I are now the same size.)
But beyond my clothing debacle, I've been firmly in the maintenance phase of the HMR program for a bit over 3 months now and I'm doing well with keeping my weight right where I want it. It fluctuates up or down a bit week to week, but that's something you have to get used to. Some people's bodies fluctuate more than others depending on a variety of factors such as water retention, if you have eaten that day or not, if you've exercised in the last day or so, etc. So you can't let it get to you if you get on the scale and it shows a few pounds heavier than the week before. That doesn't mean that you've actually put on any weight, it just means you're carrying a little extra that day. And tomorrow, it might be gone. So that's something I had to get used to.
I am in full training for more races. I'm at the point where I run about 6.5 miles every weekday morning, and a 10 mile or so bike ride. I'm getting better with my stamina and speed. My next formal run will be the Paint the Town 5K with Sarah Bush Lincoln on October 8th. It is my 4th ever race. And I'm already signed up for a couple more in the coming months, including my first 15K with my sister and brother in law. And this is from a guy who never, ever, EVER thought he'd be running a block, let alone 5K, 10K or 15K.
So come join in and do the 5K with me next month. And if you think you don't have it in you to do all that running, maybe go out and get yourself a Superman shirt like I did. It might make you feel like the hero that you have inside yourself waiting to come out. And then you'll find yourself tackling those races like you've got super powers!
Tim