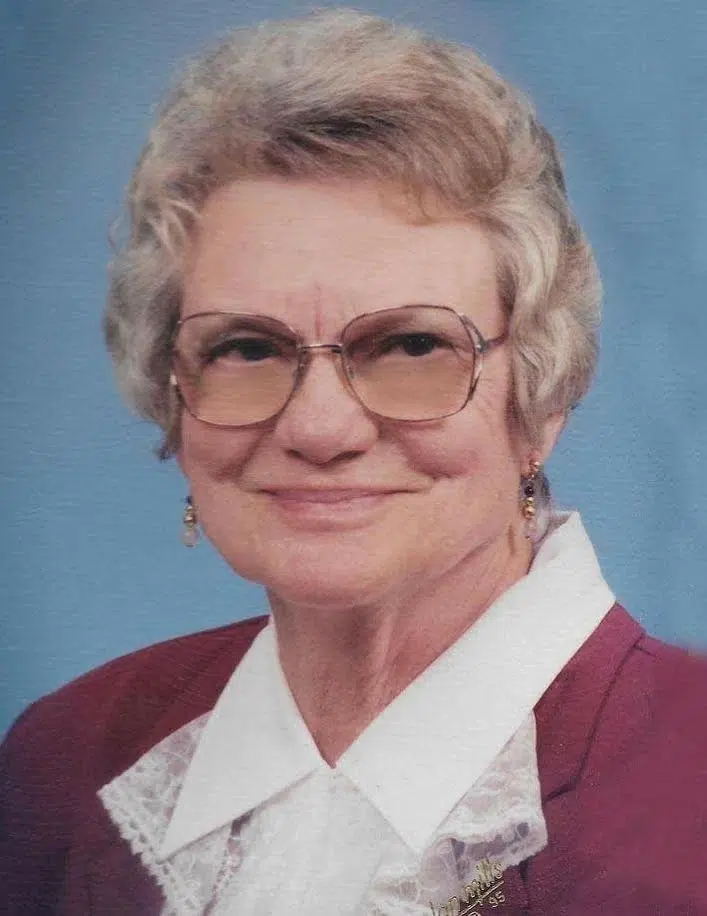 Mary E. Hartrich, age 94, of Ste. Marie, Illinois, passed away Tuesday, September 13, 2016, at The Magnolia Center in Robinson, Illinois.
Mass of Christian Burial will be celebrated at 10:00 AM – Saturday, September 17, 2016, at St. Mary of the Assumption Catholic Church in Ste. Marie, Illinois, with Fr. Dean Probst and Fr. Robert Spriggs celebrating mass.  Burial will be in the St. Mary's Cemetery in Ste. Marie, Illinois.  Visitation will be held 5:00-7:00 PM – Friday, September 16, 2016, at the church and one hour before the mass.  In loving memory of Mary, memorials may be made to the Ste. Marie Foundation House or Ste. Marie American Legion Ladies Auxiliary.  Arrangements are under the care of the Meyer Funeral Home in Newton, Illinois.  The obituary can be viewed and condolences left at www.meyerfh.com.
Mary was born in Boos, Jasper County, Illinois, on August 24, 1922, the daughter of Bert and Mabel (Sage) Mattingly.  She graduated from Greenwood School and the Newton Community High School with the Class of 1939.
Mary began her work career as a domestic helper for the neighbors and then went on to work for Dr. Will Franke.  In 1942, she was hired as a secretary at Newton Community High School and later worked as the secretary for the Jasper County Board of Education.  She resigned that post in 1950, when she embarked on a career in nursing, attending the General Hospital School of Nursing in Kansas City, Missouri.  She graduated Cum Laude in 1953, and was employed as the head nurse of the orthopedic ward there.
Mary returned to Jasper County and married Lawrence "Sonny" Hartrich on February 20, 1954.  They resided in Ste. Marie where Sonny co-owned and operated Hartrich Brothers Feed and Grain with his brother Eugene. Lawrence passed away on November 2, 1993.
Mary was very active in her community; she was a member of St. Mary of the Assumption Catholic Church, where she had served as President of the St. Mary's Altar Society; Ste. Marie American Legion Post #932 Ladies Auxiliary, where she had served as President and the Ste. Marie HEA, where she had served as President.  She established a full nursing scholarship at Olney Central College and Lincoln Trail College.
Mary is survived by: Children – Elisabeth (Jeff) Thacker of Oblong, Illinois; Donald (Nikki) Hartrich of Moore, Montana; Phyllis Moraga of Eureka Springs, Arkansas and Joseph (Liz) Hartrich of Ashland, Oregon.  Grandchildren –  Mary Lybarger, Louis Goss, Larry Goss, Austin Moraga, Dyman Moraga, Maddie Hartrich, Katie Hartrich, Mary Lundstedt, Elisabeth Martell, Zanna Hartrich and Megan Thacker.  Great Grandchildren –Maverick Goss, Bristol Lybarger, Desirae Goss, Jacob Goss, Mikayla Goss, Colt Goss, Adam Goss, Skylee Goss, Cheyenne Goss, Baylee Goss, Garridan Goss, Josie Lundstedt, Isabelle Martell, James Martell, Klaira Martell, Lolly Martell, Modest Sage Moraga and Livia Thacker.  Great Great Grandchildren – Khloee Copper, Lucas Zuber, Madi Goss and Owen Goss.  Sisters – Lou Tanner of Tucson, Arizona and Nellie Mattingly of Seal Rock, Oregon
Mary was preceded in death by her parents, her husband and her siblings Robert, Eugene, Phyllis and Peg.