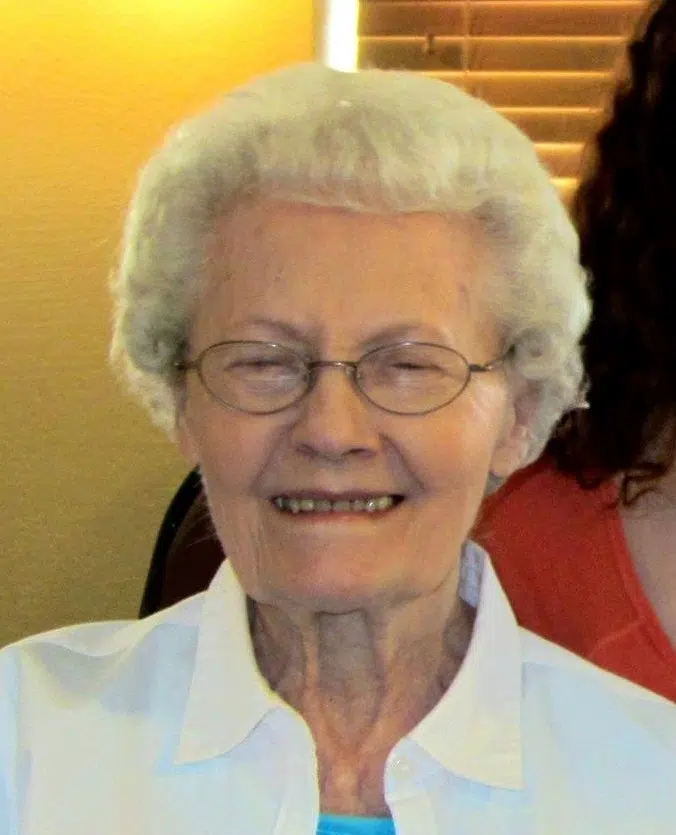 Ada E. Shafer, 96, of Windsor passed away Friday, October 7, 2016 at Carle Clinic Hospital in Urbana.  Born December 22, 1919 in Windsor she was the daughter of J. Guy and Lena (Lovins) Maxedon.  On March 23, 1945 she and James A. Shafer were united in marriage in Windsor.  James preceded Ada in death on March 13, 1999.
She was a member of the Windsor Christian Church and was a member of the American Legion Ladies Auxiliary.  Ada worked as a hairdresser for over forty years, she enjoyed reading, cooking and embroidery.
Surviving are her daughter Jane (Larry) Jukes of Champaign; two grandchildren Laurel (Ben) Ryherd of Clever, MO, Nicholas Jukes of Champaign; sister Clarice Swain of Windsor and many loved nieces and nephews.  Preceding her in death were her parents, husband Jimmy, sister Ruth Bickers, two brothers Wayne and Leland Maxedon.
Funeral service will be 11:00 a.m. Tuesday, October 11, 2016 at Windsor Christian Church. Visitation will be 5 p.m. until 7 p.m. Monday, October 10, 2016 at Windsor Christian Church and Tuesday from 10:30 a.m. until the time of service at 11:00 a.m.  Burial will be at the Windsor Cemetery.
Memorials may be directed to Windsor Christian Church.
Lovins-Lockart Funeral Home, Windsor is assisting the family.  Ada's family invites friends to share a story or light a candle in her honor at www.lockartgreenfuneralhome.com.