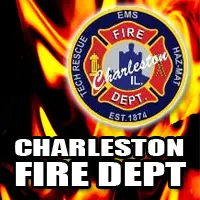 The Charleston Fire Department was dispatched to a report of a structure fire at 1513 20th Street at 8:55 a.m.
According to Chief Steve Bennett, when crews arrived on scene they found smoke emanating from the attic area of the structure. Crews were able to bring the fire under control. The occupants were home at the time of the fire, but escaped unharmed.
The fire appeared to have started on the rear exterior of the residence near some lawn care equipment which caused a small propane torch to burst, rattling windows in the neighborhood. The fire did extend into the attic. Crews left the scene at 10:24 a.m. The fire is still under investigation at this time.