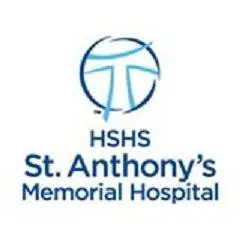 HSHS St. Anthony's Memorial Hospital is concerned about the health of the community. Because of this, St. Anthony's has made the pledge to help increase colorectal cancer screening rates by supporting the 80% by 2018 initiative, a shared goal to have 80 percent of adults aged 50 and older regularly screened for colorectal cancer by 2018. The 80% by 2018 initiative is led by the American Cancer Society (ACS), the Centers for Disease Control and Prevention (CDC) and the National Colorectal Cancer Roundtable (an organization co-founded by ACS and CDC).
St. Anthony's will hold a Colorectal Cancer Awareness open house event on Wednesday, November 2 from 7-9 a.m. and 4-6 p.m. in the Auditorium – St. Francis Room. Eligible participants over age 50 may come to the event to receive a FIT take-home stool test or receive assistance in scheduling a colonoscopy.
Colorectal cancer screenings have been proven to save lives. The vast majority of cases of colorectal cancer occur in people age 50 and older. Therefore, part of recommended screenings for people age 50 and older is a colorectal screening. Colorectal cancer in its' early stages usually has no symptoms, so everyone 50 and older should get tested. There are several screening options – even take home options – available. Testing may include:
Colonoscopy – Depending on findings, a colonoscopy is normally repeated every five to 10 years.
If you or your family member are ago 50 or older, or indicated for a screening due to a colon cancer diagnosis of a first-degree relative, you should be tested. Participants in the awareness event should check with their insurance provider on coverage details for these screenings options.
Colorectal cancer is the nation's second-leading cause of cancer-related deaths when men and women are combined. However, routine screening can prevent colon cancer or find it at an early, treatable stage. According to the hospital's cancer registry, 43 percent of patients diagnosed with colorectal cancer were at stage 3 or 4 in 2014. Treatment at these later stages normally includes surgery followed by chemotherapy. However, if found at an earlier stage, treatment usually only involves surgery. Through proper colorectal cancer screening, doctors can find and remove hidden growths (called "polyps") in the colon, before they become cancerous. Removing polyps may prevent colorectal cancer altogether.
If you have not been screened, plan to attend the Colorectal Cancer Awareness Event.  If you have already been screened, talk to your friends and family who are over 50 years of age about getting screened. Please have them check with their own insurance carrier regarding coverage details. Together, we can help to eliminate colorectal cancer as a major public health problem.
 For more information regarding this event or any community programs, contact Community Programs, at (217) 347-1529 or visit HSHS St. Anthony's Memorial Hospital's Web site at stanthonyshospital.org.  HSHS St. Anthony's Memorial Hospital is part of the Southern Illinois Division of Hospital Sisters Health System, which also includes HSHS St. Elizabeth's Hospital in Belleville, HSHS St. Joseph's Hospital in Breese, HSHS Holy Family Hospital in Greenville, and HSHS St. Joseph's Hospital in Highland.