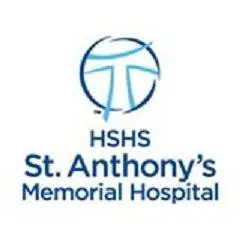 HSHS St. Anthony's Memorial Hospital's 2016 Superhero Race held September 10 was a big success, thanks to support from the community.  Held at the Richard E. Workman Sports & Wellness Complex, the home of St. Anthony's Physical Rehabilitation and Wellness services, the race was attended by over 300 participants and spectators, and netted over $16,000 to support the HSHS St. Anthony's Foundation to benefit diabetes education at St. Anthony's.
Michael Wall, St. Anthony's Director of Philanthropy, shared, "On behalf of the Superhero Race Committee, I would like to extend our thanks to the sponsors, volunteers, and participants who supported this event in any way to help those in our community living with diabetes," he said. "Because of your support and through many community partnerships, St. Anthony's is able to provide individuals with diabetes assistance in obtaining resources to manage their disease."  These resources include meetings with a Registered Dietitian, access to food, financial assistance with medications, and access to diabetic supplies, nutrition education, behavioral goal setting, and laboratory exams.
The 2016 Superhero Race held a Kids Fun Run prior to the start of the 5K/10K race, which included 107 registered kids. There were 220 people who participated in the 5K race, and 40 people who participated in the 10K race. There were 67 sponsors of the event, including lead sponsors: Effingham County Vision 20/20, Fresh Graphic Design Studio, Hetzel's Overland Transport, Hodgson Mill, Meyer Oil and Mach 1, Preferred Events, and Tebbe Excavating.  In addition to the race, there was a raffle of over 30 baskets created by St. Anthony's Memorial Hospital departments and colleague, which helped raise funds for those with diabetes.
St. Anthony's Superhero Race Committee thanked all the race sponsors and the hospital colleagues who created and donated baskets for the raffle, and offered a special thank you to the Workman Sports and Wellness Complex for hosting the event and permitting use of their facilities. In addition, they would like to extend their gratitude to Sonya Jones, Outreach Representative with HSHS Medical Group and previous contestant on the "Biggest Loser" who encouraged the participants prior to the race.
For more information about the HSHS St. Anthony's Foundation, contact Michael Wall, Director of Philanthropy, at (217) 347-1854 or email Michael.Wall@hshs.org, or visit the hospital's web site at stanthonyshospital.org. HSHS St. Anthony's Memorial Hospital is part of the Southern Illinois Division of Hospital Sisters Health System, which also includes HSHS St. Elizabeth's Hospital in Belleville, HSHS St. Joseph's Hospital in Breese, HSHS Holy Family Hospital in Greenville, and HSHS St. Joseph's Hospital in Highland.