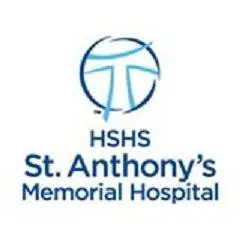 HSHS St. Anthony's Memorial Hospital continues to support area efforts to enhance the health of community residents. In the 2015 Community Health Needs Assessment that HSHS St. Anthony's Memorial Hospital conducted in partnership with the Alliance for a Healthier Effingham County and Jasper Steering Committee, it was identified that a notably smaller portion of the population in Effingham (42 percent) and Jasper (57 percent) Counties have access to exercise opportunities compared to the state as a whole (86 percent).
In working to improve access to exercise opportunities, the hospital partners with local organizations whose goals align with health improvement, such as Trails Recreation Effingham County (TREC). TREC's plan is to develop a trails program that would include 30 miles of free access bicycling and walking trails in the county, which would in turn link smaller communities in the county together by an alternative route of travel geared toward bikers and hikers.  By September 2015, TREC had completed three phases of its project by paving and opening nearly three miles of recreational trails for public use. TREC continues to support the construction of additional trails to extend the project and approached HSHS St. Anthony's Memorial Hospital for financial support.
This past June, St. Anthony's donated $25,000 to support the TREC Trail expansion project.  TREC used this support, along with funds contributed by other organizations and agencies, for a fourth phase of their trail system to extend the TREC Trail within Effingham.  This newly paved portion was recently opened in fall 2016, and has become very popular with area citizens.
Theresa Rutherford shared why the hospital wanted to support TREC's Trails expansion efforts. "We are fortunate in our community to have the TREC organization, whose trails increase tourism and improve the quality of life for area residents," she said. "At St. Anthony's, we realize that promotion of good health occurs outside the walls of the hospital, which are the social determinants of health.  These are the many societal and non-medical factors that play a much larger role in determining someone's ability to be healthy, such as the physical environment in which they live, the economic stability or instability in their lives, and their access to healthy foods and exercise," she explained. "As a community partner, we desire to help increase the availability of outdoor recreation options for the community which will assist them in maintaining their active lifestyle or becoming more physically active.  Given that the trails are offered free of charge to any community member, it was a logical choice for our organization to support the expansion of a trail system which provides opportunities for everyone, regardless of their background, to make healthy choices for themselves."
TREC Board President Frank Brummer shared his appreciation for the hospital's donation.  "On behalf of the Board, we are grateful for the support of HSHS St. Anthony's Memorial Hospital for the expansion of our trail.  Effingham County's trail system would not be possible without the generous support of the community. The contributions of area organizations, along with grants and governmental support, make the continued construction of trails possible."
For more information about HSHS St. Anthony's Memorial Hospital, visit the hospital's web site at stanthonyshospital.org.  HSHS St. Anthony's Memorial Hospital is part of the Southern Illinois Division of Hospital Sisters Health System, which also includes HSHS St. Elizabeth's Hospital in Belleville, HSHS St. Joseph's Hospital in Breese, HSHS Holy Family Hospital in Greenville, and HSHS St. Joseph's Hospital in Highland.