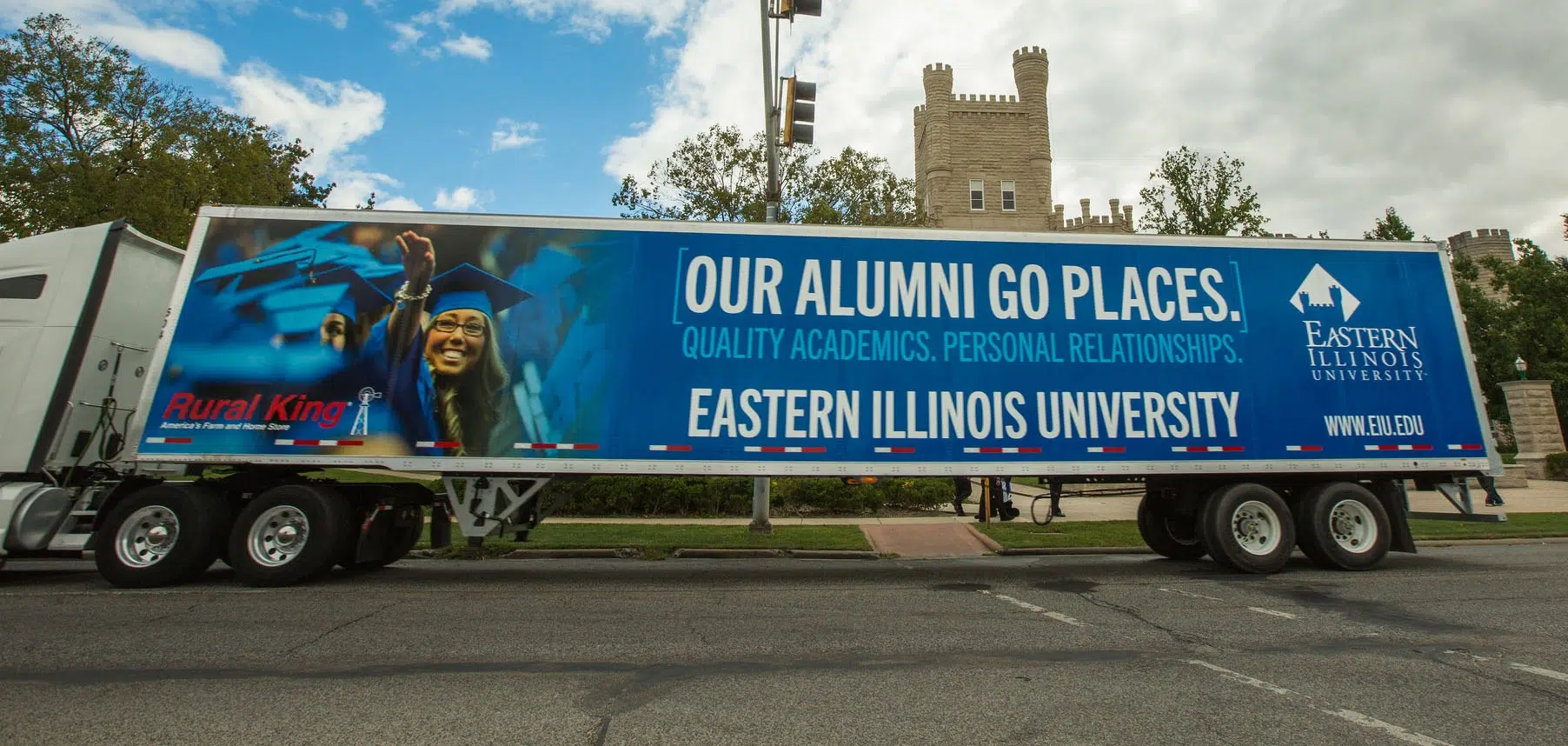 By partnering with a Coles County-based business, Eastern Illinois University is getting its name spread throughout Illinois and beyond.
EIU shares its billing with Rural King, a farm and home company headquartered in Mattoon, on vinyl wrappings covering four of hundreds of trailers that deliver goods to nearly 100 stores in an 11-state area.
"The first time this sort of thing came to my attention was 10 or more years ago when a friend who worked there told me that the University of Montana was using tractor-trailers to help market their institution," said Steve Rich, assistant vice president for advancement at EIU.  "I remember thinking then what a great idea it was – a moving billboard!"
It wasn't until earlier this year, though, that Rich began considering the practicality of incorporating the idea into Eastern's own marketing plan.
"I drive by (Charleston's) Rural King every day on my way to work, but it wasn't until recently that (the idea) clicked," he said.
After discussing it with EIU President David Glassman, Rich approached David Bailey, then Rural King's director of marketing.
"I thought it was a great idea," Bailey said.  "I know what Eastern Illinois University means to the community.  It's part of our community.  Many of our own associates have either attended there or had family members that attended there over the years.
"I got excited about the opportunity and began taking the idea up the ladder internally.  It was well received."
The timing was right, too, in that Rural King had just purchased a fleet of brand-new trailers.  The company presented Eastern with the expense-free opportunity to put the EIU-designed wrappings on as many Rural King trailers as the university wanted.
However, the university was responsible to a third party for the cost of having the wrappings actually made and installed – processes performed by an independent graphics company based in Lafayette, Ind.
"We decided to go with four," Rich said, "with the price of three of them picked up through the president's marketing budget, made possible through the EIU Foundation.  The EIU Alumni Association chose to pay for a fourth one as their contribution to Eastern's marketing efforts."
The newly wrapped trailers were ready in late September and have already spent several weeks on the road.
According to Bailey, one of the four trailers remains in Illinois at all times.  The remaining three travel the roads throughout seven states of Rural King's 11-state area, which includes Illinois, Indiana, Kentucky, Tennessee, Ohio, Michigan, Missouri, Pennsylvania, Florida, West Virginia and Virginia.
Eastern already markets itself in Illinois' bordering states — Indiana, Iowa, Kentucky, Michigan, Missouri and Wisconsin – allowing those students to pay the same tuition rate as in-state students.
Rich said it's early days to be measuring the effects of the big rig advertising, but he feels it will be money well spent.
"A stationary billboard could easily surpass the cost of even one of those wrappings," he said.  "Further, it would only be on display for a fraction of the time we expect these wrapping to be on the road.
"We estimate those trailers will be carrying the name of Eastern Illinois University for as long as the wrappers hold up and handle the elements," he said.  "And by all estimates, we're told that could be from three to five years."