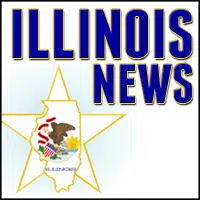 The state's historic sites in Springfield are celebrating the holidays with the city. Activities include visits from Santa Claus, unique holiday decorations and children's reading events.
Both the Old State Capitol and the Dana-Thomas House will be taking part in the weekly Holiday Walks organized by Downtown Springfield Inc. Walks are scheduled on Wednesdays from 5-8 p.m. and Saturdays from 11 a.m. to 2 p.m.
The Old State Capitol will host games and crafts, a gingerbread house and visits from Santa Claus. Meanwhile, the Dana-Thomas House will present one-of-a-kind decorations designed by the Springfield Civic Garden Club to complement the home's incredible Frank Lloyd Wright architecture and décor.
Four historic sites will join forces Dec. 10 to present a day of stories for children of all ages. Activities start at the Executive Mansion with story-times at 9:30 and 10:30 a.m. The Vachel Lindsay Home will open its doors at 10 and 11:30 a.m. Then, the Old State Capitol has readings at 12:30 and 2 p.m., and the Dana-Thomas House at 1:30 and 3 p.m.
The Vietnam Veterans Memorial at Oak Ridge Cemetery will be the site of two special events – Christmas Remembrance and "Wreaths Across America."
The annual Christmas Remembrance takes place Saturday, Dec. 3 at 1 p.m. The names of troops listed as prisoner of war or missing in action will be read. Family and friends will hang heart-shaped ornaments bearing the name of lost loved ones on a nearby tree. The general public can participate by bringing a weather-proof ornament to hang.
Vietnam Veterans of America Chapter #534 will provide the color guard for the event. The ceremony also includes Christmas music courtesy of the Lincoln Barbershop Chorus.
The Vietnam Veterans Memorial will participate in the nation-wide "Wreaths Across America" event on Dec. 17. Volunteers will lay wreaths at the memorial at an 11 a.m. ceremony. Wreaths will also be placed at the memorials for World War II and Korean War veterans and at the Lincoln Tomb State Historic Site.
The Lincoln Tomb this year features winter finery thanks to a large donation of greenery from the Illinois Christmas Tree Association.
And on Dec. 18, the Dana-Thomas House also will light up the night with a stunning display of luminarias around the home. Visitors can enjoy the scenery outside and take a night-time tour from 5 p.m. to 9 p.m.
Inside, the Springfield civic gardening club, comprised of local award-winning floral designers, has decorated with naturally sourced materials that add beauty to the already magnificent home. In all, 27 volunteers created over 60 decorative holiday displays, 10 wreaths and six Christmas trees that will be on display throughout the holiday season.