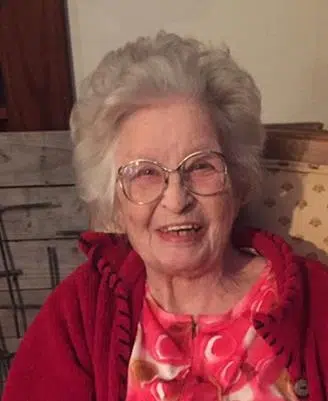 Dorothy Marie Milone Stewart went to be with the Lord and her loved ones on this day, November 29, 2016 at the age of 94.
Funeral services will be held at 11:00 a.m., Saturday, December 3, 2016 at the Crain Funeral Home, Newton, Illinois.  Visitation will be held from 10:00 a.m. until 11:00 a.m., Saturday, December 3 in the funeral home.  Burial will be in the Mt. Pleasant Cemetery, Claremont, Illinois.
Dorothy was born to Roscoe Guy and Lucy Ann Nettleton Milone on March 30, 1922 in Claremont, IL.    She married Leroy Stewart in Kankakee, IL on December 12, 1942. Their only child, Patricia Rae Stewart was born September 9, 1945 in Topeka, Kansas.
Dot or Dory as she was always referred to by family members was the middle of nine children- having 4 sisters and 4 brothers.  She loved to tell stories of growing up in such a large family on the farm. Her stories of walking to school with newspaper wrapped around her legs for warmth and eating pumpkin spread sandwiches would inspire any modern day school child to appreciate present times.
Mother loved life and people!  She was an avid collector/ seller of antiques and vintage jewelry throughout her life. She had a sense of style where as she could throw any old thing together and make it look good.  Mother's biggest trademark, however, was the many hats that she liked to wear- be it a garden hat, her favorite auction hat, or a fancy special occasion hat-she always wore a hat!  Sometimes the bolder the better!
I've never met anyone that could throw a pie together faster than Mother-with her "poor man's pie" being a favorite of her many nieces and nephews."   Tell Aunt Dory to bring an old fashion milk pie", would be the request for family gatherings.  It was always the first pie gone.
Mother loved family gatherings!  Her pride and joy were her grandchildren, Michele (Meeee-chele) and Christopher, her Great-Granddaughters, Lea Marie, who was lucky enough to enjoy her Grandma Dorothy's company and influence for 27 years, Alex Renee (17), Callista Grace (13), and her Great-Great Grandson, Colin Matthew (1 month).
Mother will always live on in the hearts and minds of her family as we continue to share memories of her, use her handwritten "tried and true" recipes, wear a piece of her jewelry, or just sit and reflect on how lucky we were to have her as a mother and grandmother!
Reflections written by daughter, Pat Clark.
Dorothy will be loved and remembered by her daughter Patricia Clark, husband Tom of Newton; grandchildren Michele Farley, husband Tim of Newton and Christopher Denoyer, wife Angela of Effingham; their father Jerry Denoyer of Newton; great-grandchildren Lea Marie Creadore, husband Matt of Newton, Alexandria Denoyer and Callista Denoyer both of Effingham; great great-grandson Colin Matthew Creadore of Newton; brother Earl Milone, wife Brenda of Flora and sisters Alice Nicholson of Decatur and Esther Kistner, husband Gene of Carmi and generations of nieces and nephews.
Her parents, granddaughter Heather Marie Denoyer,  brothers Darwin "Rube" Milone, Wendall Milone and Roscoe Milone, Jr and sisters Lola Mae Legan and Elizabeth Kershaw and long-time companion Ed Cleary preceded her in death.
Online condolences may be offered at www.crainfuneral.com.