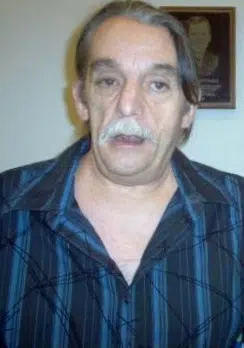 Larry "Butch" Sherwood, 58, of Toledo, Illinois passed away at 3:16 am on Thursday, November 24, 2016 at Sarah Bush Lincoln Health Center in Mattoon, Illinois.
Memorial visitation will be from 2:00 to 4:00 pm on Sunday, December 4, 2016 at the Cumberland County Life Center in Toledo, Illinois.
Larry was born on April 10, 1958 in San Francisco, CA to Lewis and Rose (Scoma) Sherwood. He married Terry Seaney on March 5, 2010. She survives along with his sons Johny Sherwood and Tony Sherwood, both of San Jose, CA; step-sons T.J. Houser and James Houser both of Toledo; Brothers Rick Sherwood and Roy Sherwood, both of Colorado Springs, CO; Sister Linda Sloan of Campbell, CA; and nine grandchildren. He was preceded in death by his parents.
Larry was a custodian supervisor. Memorials may be made to the family, care of Barkley Funeral Chapel, PO Box 381, Greenup, IL. Online condolences can be expressed at www.barkleyfuneralchapels.com