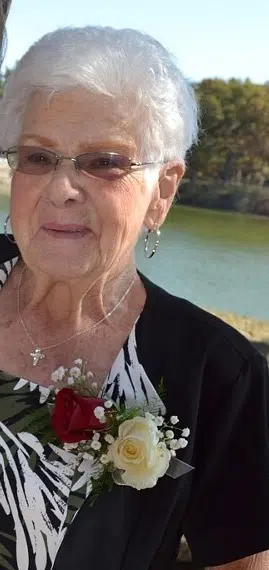 Anna Rosalie Kemper, 94, of Greenup, Illinois passed away at 5:58 am on January 1, 2017 at Sarah Bush Lincoln Health Center in Mattoon, Illinois.
Funeral service will be at 11:00 am on Friday, January 6, 2017 at the United Methodist Church in Greenup. Visitation will be from 10:00 am until the service time. Burial will be in the Greenup Cemetery.
The Barkley Funeral Chapel in Greenup is assisting the family.
Rosalie was born on October 19, 1922 in Greenup, Illinois; the daughter of Ira and Helen (Higgins) Kuhn. She married Noble Kemper on June 1, 1940. He preceded her in death in 1991. Surviving is son Jerry (Sue) Kemper of Greenup; daughter-in-law Javetta Kemper of Greenup; grandchildren Jerad (Jennifer) Kemper, Racquel (John) Fagin, Joseph (Dailene) Kemper, Dawn (Mike) McCaslin, Roni Sue (Jason) McMechan, Shana (Matthew) DeSmit and Keith Kemper; great grandchildren Keaton, Derrick, Courtney, Logan, William, Jaton, Jasie, Gunnar, Noble, Anna Gracie and Kenneth Gabriel. She was preceded in death by her parents, son Kenneth "Bill" Kemper, daughter Judith Kemper and brother Lowell Kuhn.
Rosalie worked at the Ettelbrick Shoe Factory. Memorials may be made to Cumberland Rehab Auxiliary Fund or the Alzheimer's Association, 8430 West Bryn Mawr, Suite 800, Chicago, IL 60631. Online condolences can be expressed at www.barkleyfuneralchapels.com.