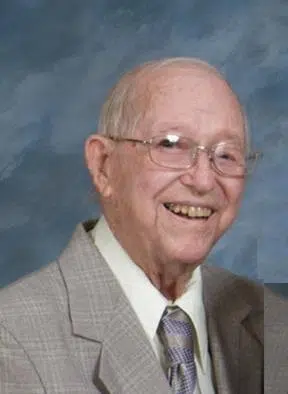 The Rev. Earl Wayne Dickey, 101, went to be with his Lord on January 3, 2017 at Manor Court in Carbondale, IL.  He was the oldest of 12 children born to Homer E. and Lillie Jostes Dickey on Sept. 8, 1915 in Montgomery County, IL.
Earl was called to the ministry at the age of 9.  His father, also a minister, moved frequently causing Earl to attend 15 different schools before graduating from high school.  At the age of 18 he joined the Civilian Conservation Corps where he helped develop Giant City State Park near Makanda, IL, and Copper Falls State Park at Mellon, WI.  While in Wisconsin, he helped fight forest fires on Isle Royal in Lake Superior.
In 1936 he left the CCC to attend Adrian College in Adrian, MI.  After completing his Bachelor's degree, he attended Westminster Theological Seminary in Westminster, MD.  It was during this time that he married the love of his life, Juanita Earnest, on Dec. 26, 1941.  They enjoyed 70 years of marriage before her death in 2012.
During his ministry, he served churches in northern Ohio, the Eastern Shore of Maryland.  After obtaining his masters of Divinity, he returned to southern Illinois where he served churches in Enfield, Shipman, Murphysboro, Jerseyville, Carterville, East St. Louis, Benton, and Mt. Carmel.  As a pastor, he actively participated in the camping program of the Southern Illinois Methodist Conference at Little Grassy Methodist Camp on Little Grassy Lake.  He helped build the original structures, and he and Juanita both directed camps there.  In his spare time his hobbies were woodworking, gardening, hunting, and fishing.
He retired in 1979 to Newton where he served as interim pastor at the First Christian Church, Blair United Methodist Church, and Kedron United Methodist Church.  In 1999 he and Juanita decided to move to Carbondale to be near their daughter, Jean, and her children and grandchildren.  There they enjoyed the fellowship of several other retired ministers and attending the First United Methodist Church in Carbondale.  He and Juanita also volunteered at the Visitors' Center at Giant City State Park where Earl was considered the resident CCC historian.
Earl is survived by three children, daughter Jean and Peter Wories of Carbondale, Il, daughter Sue Dickey and Tom Pollard, of Alameda, CA, and son, Lee and Dana Dickey of Redding, CA; grandchildren, Kevin (Rosemary) McCamish and Megan Harmon all of Carterville, IL, Casey (Nico) Anselmi of Fidenza, Italy, Rebecca Renfroe of Clarkesville, TN, Adam Wories of Carbondale, and Rachelle (Brandon) Ridgeway of DuQuoin, IL, 11 great-grandchildren, Kaleb McCamish and fiance Rachel Tate of Ft. Collins, CO, Colby and Corbin Harmon, Paige and John Stephen McCamish, Mikenzie Minnick all of Carterville, Wiley and Annalee Renfroe of Clarkesville, TN, Ryleigh and Ty Ridgeway of DuQuoin, and Amelia Anselmi of Fidenza, Italy.  He is also survived by brother Ernest (Rozella) Dickey of DuQuoin, brother Wesley (Pat) Dickey of Waltonville, and sister Lillie (William) Loman of Blue Springs, MO and numerous nieces and nephews.
He was preceded in death by his wife, parents, eight siblings, and two infant daughters.
Visitation will be on Friday, Jan. 6, 2017 at Crain Funeral Home in Newton from 5 till 8.  Funeral services will be held at Falmouth United Methodist Church, Newton, Il. on Saturday, Jan. 7 at 11 a.m. with burial following at Brooks Cemetery.  A memorial service will be held in Carbondale at a later date.
Memorial gifts in honor of Rev. Dickey may be made to Preacher's Aid, the Little Grassy Camp, or the Mt. Vernon Children's Home all are part of the United Methodist Church.
Online condolences may be offered at www.crainfuneral.com