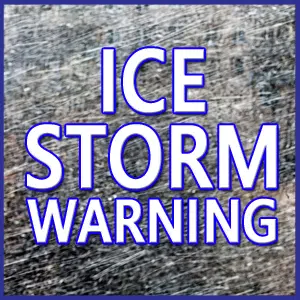 The National Weather Service has issued an Ice Storm Warning for Fayette County in effect from 9am Friday to Noon on Sunday.  The ice storm warning continues throughout Southern Illinois and into Missouri including the St. Louis area.
Timing:  Freezing rain will overspread the area Friday morning.  Significant ice accumulation is expected Friday morning through Sunday morning.
Accumulations:  One quarter to one half inch of ice
Temperatures:  Upper 20s to Lower 30s
Winds: Northeast 5 to 10 MPH
Impacts:  The ice will result in hazardous travel conditions, especially on bridges, overpasses and untreated roads.  Parking lots and sidewalks will become slippery as well.  Damage to trees and power lines is also possible.
Precautionary:  An ice storm warning means that a severe and dangerous amount of ice accumulation is occurring or expected to accumulate, especially on untreated surfaces, such as sidewalks, driveways, roads and parking lots.  The heavy ice accumulations will make travel dangerous or impossible.  If you must travel, exercise extreme caution and begin your travel with a full tank of gas and carry a winter storm kit which includes a shovel, flashlight, cellphone, food, water and blankets of extra warm clothing.  Ice accumulations and winds will likely lead to snapped power lines and falling tree branches that add to that danger.
---