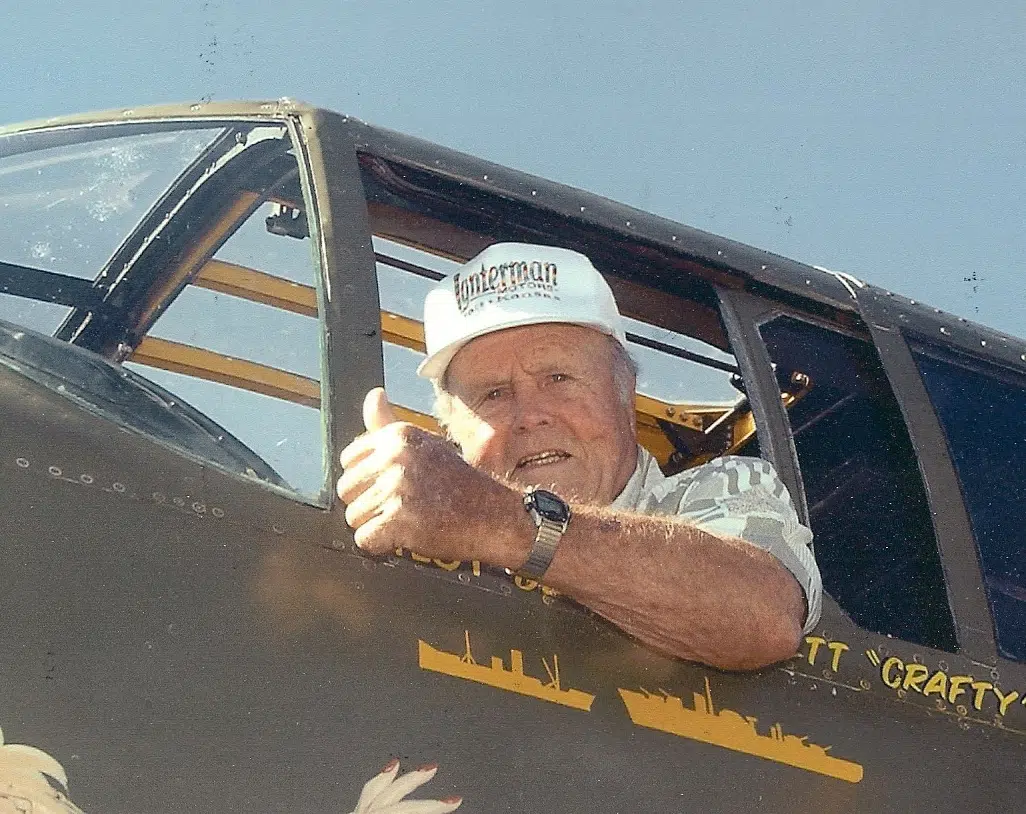 Lt. Colonel Daniel W. King passed away of natural causes while in Hospice in Wichita, Kansas on Thanksgiving morning at the age of 94 years, related to complications of a stroke.
Colonel King was born in Falmouth, IL on December 12, 1921 to Oney and Eva Guerrettaz King, the second of three sons. From an early age, Danny demonstrated a knack for machinery operation and repair & he was driving a John Deere tractor by the age of 12. Dan's dreams were always in the sky; a ride with barnstorming pilot at the age of eight years (having borrowed the $5 fare from an uncle) convinced Dan that the sky was his favorite place.
Following graduation from Newton High School, Dan enlisted in the United States Army Air Corps in 1939 as a private and soon became an aircraft engine repair specialist. When WW II came, he volunteered for the "Flying Sergeants", a program which ensured a commission if the air cadet could win his wings, which Dan did with ease in early 1942. By that November, he was piloting a B-25 bomber in the Mediterranean Theater of Operations and completed 50 missions without harm to himself or any of his men. Following this service, Lieutenant King served as a flight instructor, and while on duty in Kearny, Nebraska, met Bonnie Jean Mckenzie, who became his wife and the love of his life. These two were to remain together for 68 years until death separated them.
Following the War and the birth of their only son, Danny, the Kings lived in England for three years where Captain King flew VIP flights for US Air Force dignitaries and their guests, including Arthur Godfrey, himself a skilled pilot. Dan was decorated for saving the lives and mail aboard a disabled DC-3 over the Aleutian island of Sitka in the early 1950's. Major King was then personally selected by General Curtis Lemay for service in the Strategic Air Command as a Director of Mate'riel at Forbes Air Force Base in Topeka, Kansas for the next seven years until his retirement as a Lieutenant Colonel in 1962.
Dan then sold life insurance and later civilian aircraft engines after having moved to Wichita, Kansas where he lived in the same home, & enjoyed retirement fully, until 2016, when he moved to assisted living at the Kansas Masonic Home. Dan's retirement included helping his neighbors with all manner of issues as Block Captain, operating farm equipment on his family lands in Illinois, hunting in many places including Texas, Canada, & Wyoming, and creating many useful items in his garage workshop.
Also notably, Dan fully financed the education of his wife who gained a doctorate in English Education, specializing in teaching children with special needs, and his son, Daniel M. King, M.D., a comprehensive ophthalmologist in Red Bluff, California.
Dan's brothers, William and Dale, preceded him in death. Dan is survived by his wife and son, three grandsons, Edward, Andrew, and Cameron, and beautiful grand-daughter, Margaux Louise King, as well as good friends, Bob Warren of Mullen, Nebraska and Dr. Lonnie Whiddon of Dallas, Texas. Dan is also survived by his nephew, David King, and by his nieces, Linda King Lee, Gail King Robards, Billie King Scales, Debra King Bruns, Candy King, and Brenda King Farrier.
The funeral service for Colonel King will be at the Crain Funeral Home in Newton, IL on January 21st at 11:30 AM with interment at Brockville Cemetary to follow thereafter. Family and friends may call from 10:00 AM, Saturday until the time of service at the funeral home.  A reception will then occur in Newton at Parklanes. In lieu of flowers, donations made in Dan's behalf may be sent to the Newton Academic Foundation (at Newton High School) in memory of Daniel King.