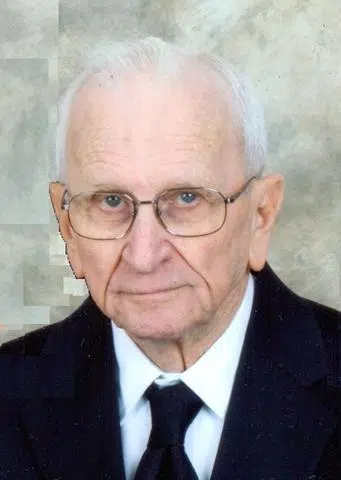 James Max Miller, age 89, of Newton passed away Saturday, January 21, 2016 at Richland Memorial Hospital, Olney, Illinois.
Funeral services will be held at 11:00 a.m., Tuesday, January 24, 2017 at the Crain Funeral Home, Newton with Rev. Chuck Cunningham officiating.  Visitation will be held from 5:00 p.m. until 7:00 p.m., January 23 at the funeral home.  Burial will be in the Wheeler Cemetery, Wheeler, Illinois with military rites.
Max was born on May 30, 1927 in Wheeler, Illinois the son of John M. and Reta B. (Busby) Miller.  Max served his country in the United States Navy during WWII.  Following the war, Max married Evelyn Faye Raney on July 11, 1947 in New Boston, Texas.  Max spent his life as a carpenter.  For eighteen years, Max was the custodian for Newton Central Grade School until his retirement.
His memberships include the Falmouth United Methodist Church and the Jasper Post No. 20 of the American Legion.  In his free time, Max enjoyed woodworking and gardening.  He loved time spent with family, especially his grandchildren, great-grandchildren, and great-great-grandchildren.
Max will be loved and remembered by his wife of sixty-nine years Faye Miller of Newton; son Jay Miller, wife Betty of Long Beach, Mississippi; daughter Susan Hundley, husband Herb of Olney, Illinois; grandchildren Jeffrey Michael Miller, Jacy Michelle Miller, Lauren Lynn Tyler; Danielle Edgar, and Theodore Hampton; 14 great-grandchildren and 5 great-great-grandchildren; and brother Rev. Kenneth Miller, wife Mary of Wheeler.
His parents and sister Luella "Tootsie" King preceded him in death.
Memorial gifts in honor of Max may be made to the Jasper County Cancer Support Fund or to the Master's Hands.
Online condolences may be offered at www.crainfuneral.com.