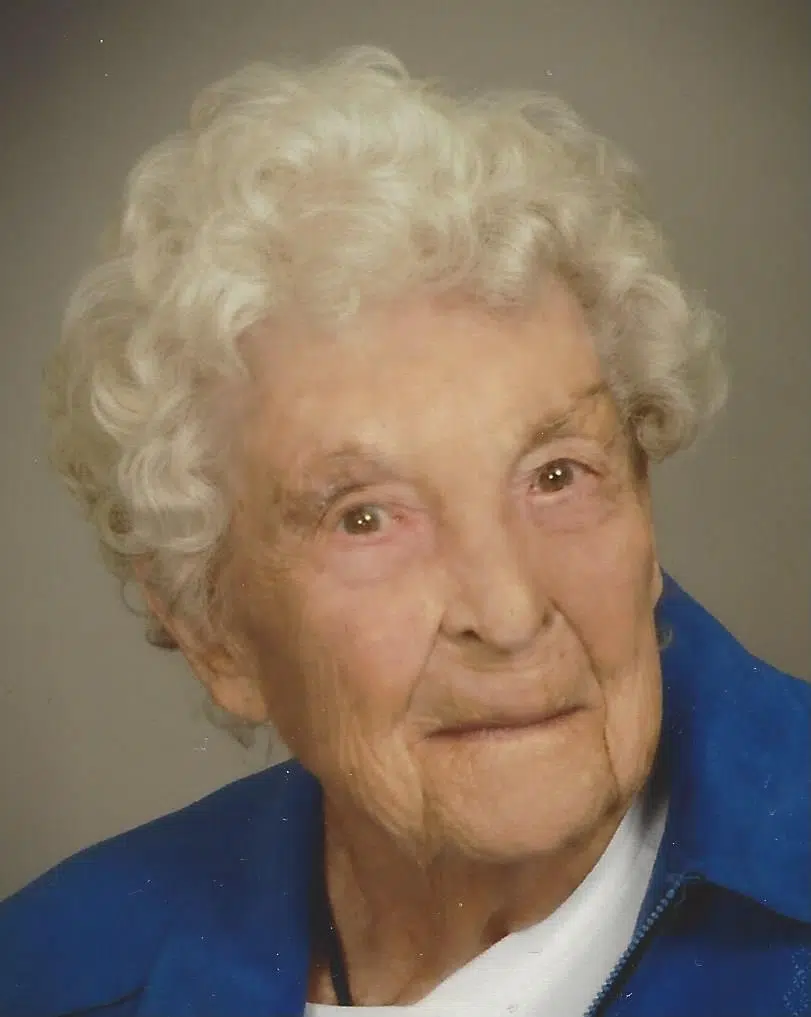 Algury Davis Swisher of Greenup passed away at 4:30 a.m. at Miller's Nursing Home in Garrett, Indiana on January 27, 2017.
Funeral services will be at 11:00 a.m. on Tuesday January 31, 2017 at Christ the King Catholic Church in Greenup with a memorial reception following the graveside service at 1:00 p.m. in the parish hall. Burial will be in the Greenup Cemetery. The Barkley Funeral Chapel in Greenup is assisting with arrangements.
Algury was born on April 7, 1922 in Lander Wyoming, the daughter of Naomi and Guy Davis.  She grew up in Farina, Illinois, where she met her future husband, Charles.  They married June 6, 1941 and moved to Greenup in 1948.  Algury obtained a Bachelor's degree in elementary education and later a Master's degree in counseling from Eastern Illinois University.  She taught for many years in Neoga, Casey and Hazel Dell.  Well into her 90's she would still occasionally be approached by former pupils who had fond memories of her.  Algury remained a voracious reader throughout her life and she loved to travel.  She and Charlie traveled extensively throughout the United States and Canada and also made trips to Europe.  Christ the King Catholic Church in Greenup was central to her life for over 60 years.
Surviving are her children Shawn (Cathleen) Swisher of Ojibwa, Wisconsin, Carol (Peter) Walker of Garrett, Indiana, and Michael (Elisabeth) Swisher of Chicago.  Also surviving are her grandchildren:  Sherry Rardin, Stacey Swisher, Susan Swisher, Shelly Ike, Todd Whitkanack, Scott Whitkanack, Tracy Walker, Stephen Swisher, Imme Winter and Eva Cranstoun.  She is also survived by 20 great-grandchildren and 2 great-great-grandchildren.  She was preceded in death by her husband Charles, daughter-in-law June Swisher and granddaughter Kelly Kennedy.
In lieu of flowers, memorial contributions may be made to Christ the King Church in Greenup. Online condolences can be expressed at www.barkleyfuneralchapels.com