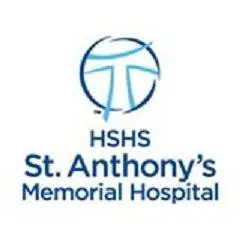 National Catholic Sisters Week, a component of Women's History Month, is celebrated annually from March 8-14 as a dedicated celebration of Catholic Sisters intended to raise awareness of their vital, remarkable contributions, both past and present.  Often the devoted lives and ministries of Catholic Sisters remain behind the scenes, going unnoticed, but whose legacies are an inspiration to all they have impacted through their ministry.
To recognize their contributions, HSHS St. Anthony's Memorial Hospital recently honored local Sisters on March 8 during the hospital's 10:30 a.m. Mass in their Chapel, followed by a luncheon in the hospital Board Room. The Sisters were given an update on the hospital's present and future activities by Theresa Rutherford, President and CEO.  They were also presented with note cards signed by hospital leadership as a "thank you" to the Sisters for their continuous ministries.
For more information about HSHS St. Anthony's Memorial Hospital, visit St. Anthony's Web site at stanthonyshospital.org.  HSHS St. Anthony's Memorial Hospital is part of the Southern Illinois Division of Hospital Sisters Health System, which also includes HSHS St. Elizabeth's Hospital in Belleville, HSHS St. Joseph's Hospital in Breese, HSHS Holy Family Hospital in Greenville, and HSHS St. Joseph's Hospital in Highland.