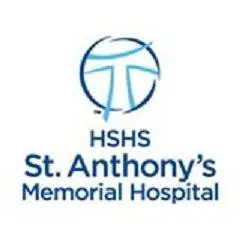 With the spring upon us, many of us are starting to clean up our lawns and getting rid of the leaves that have gathered, many times through burning leaves.  While everyone appreciates a neat lawn, HSHS St. Anthony's Memorial Hospital encourages people to consider alternative options to leaf burning that are less toxic to our environment and our family, friends and neighbors.
Leaf burning can be a nuisance to many and can hinder lives, particularly for those who struggle with respiratory health issues. Burning leaves pollute the air and make it hard for people to breathe, especially those with asthma, emphysema and other health concerns.
Douglas Kabbes, MD, Medical Director of St. Anthony's Emergency Services, shared, "I have seen many people struggling with these respiratory health issues in our hospital ER. Inhaling the smoke generated by leaf burning can cause people to get sinus infections or pneumonia. For those with lung disease, asthma, emphysema or those with heart disease, it can be life threatening. Longer term risks include developing heart and lung disease, cancer and others," he said.  "The smoke from leaf burning can have particularly harsh effects on the very young and the elderly. What most people don't realize is that second hand smoke from leaf burning is much worse than any second hand smoke related to cigarette smoking," he explained.
St. Anthony's Memorial Hospital encourages everyone to consider alternatives to leaf burning to keep your lawn neat while helping keep the air clean.  Dr. Kabbes shared the following alternatives which would help out those who suffer from respiratory health issues. "Try composting or mulching your leaves – these methods help return nutrients to the grass. It is God's way of fertilizing your lawn," he said. "By considering alternative options to leaf burning, we can work together to have a positive and lasting impact on our community's health."
For those who feel they must burn their leaves, Dr. Kabbes encouraged, "please do so in a responsible manner.  Wet or moist leaves burn slowly, smolder and produce a great deal of smoke.  Drier leaves burn quickly and produce less smoke."
The City of Effingham and the Effingham Water Authority at Lake Sara have limited burning to certain days and times. To learn their days and hours, visit the City of Effingham's web site at   effinghamil.com under "News," or the Effingham Water Authority's web site at effinghamwaterauthority.org under the "FAQs" section.
For more information about HSHS St. Anthony's Memorial Hospital, visit St. Anthony's web site at stanthonyshospital.org.  HSHS St. Anthony's Memorial Hospital is part of the Southern Illinois Division of Hospital Sisters Health System, which also includes HSHS St. Elizabeth's Hospital in Belleville, HSHS St. Joseph's Hospital in Breese, HSHS Holy Family Hospital in Greenville, and HSHS St. Joseph's Hospital in Highland.