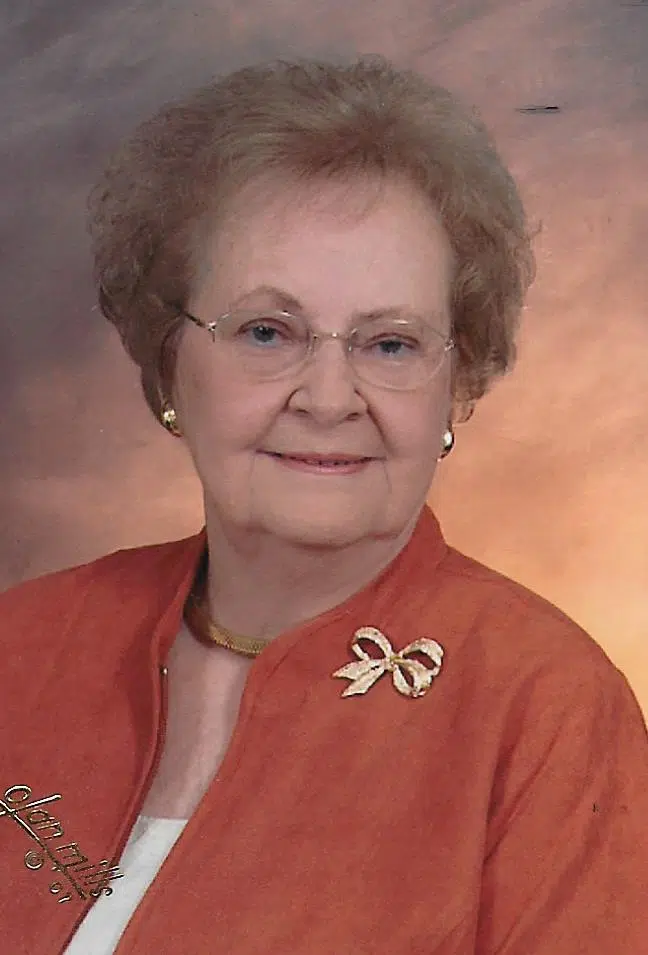 Lorena P. (Westendorf) Pruemer, age 95, of Dieterich, Illinois, passed away at 4:21 PM – Tuesday, March 28, 2017, at her home.
Mass of Christian Burial will be celebrated at 10:00 AM – Monday, April 3, 2017, at St. Joseph's Catholic Church in Island Grove, Illinois, with Fr. Dean Probst celebrating mass.  Burial will be at the Immaculate Conception Cemetery in Dieterich, Illinois.  Visitation will be 3:00 – 5:00 PM – Sunday, April 2, 2017, at the church with a rosary at 5:00 PM.  There will also be visitation ½ hour before the mass in the parish hall.  In loving memory of Lorena, memorials may be made to the Dieterich Community Civic Center. The obituary can be viewed and condolences may be shared at www.meyerfh.com.
Lorena was born on April 5, 1921, the youngest child of Joseph F. Lidy and Catherine M. (Hartke) Lidy of Island Grove.  She married Harold H. Westendorf of Dieterich, at the Catholic Navy Chapel at Corpus Christi, Texas, on September 12, 1942, and he preceded her in death on October 11, 1979.  On April 21, 1990, she married Donald Pruemer at Immaculate Conception Catholic Church in Dieterich, and he preceded her in death on October 12, 2014.
Lorena was also preceded in death by her youngest child, Greg, who died on April 20, 2016, and her five brothers and sisters:  Josephine (Richards), Aloyius, Leonard, Barbara (Schumacher), and Victor.
Survivors include her son, Ron (Bobbi) Westendorf and grandson, Brian Westendorf, of Weatherford, Texas; daughter, Judy Myers (Alan) and grandson, Jonathan (Aubrey) Myers and her three great grandchildren Douglas, EmmaLee, and Lauren Myers of Fithian, Illinois; Linda Westendorf, (widow of son, Greg) and granddaughter Amy (Ron) Davis of Florence, Alabama; four stepchildren:  Stephanie Graves, Stanley Pruemer, Linda Pruemer, and Jill Rodriquez and fourteen step children and six step great-grandchildren.
Other than 3 years in Texas during World War II, Lorena has always lived in Dieterich.  She was a retired sales person at the Martinque dress shop in Newton for 15 years.  She was a member of the Immaculate Conception Altar and Rosary Society.   She was Vice President of the Board of Directors of Montrose Mutual Telephone Company for 15 years.  Lorena also served on the Board of Directors for the Kluthe Center in Dieterich, where she enjoyed playing Solo each Thursday afternoon.
Words can't express the family's heartfelt gratitude for long-time neighbors, John and Donna McVicar.    Because of them, Lorena was able to continue living at home during the last years of her life.  The family also wishes to express its deep gratitude to Lorena's caregiver Sharon McCammon.  For the last year and a half, Sharon looked after Lorena and coordinated her in-home care.  Finally, the family wishes to thank the kind and considerate caregivers that looked after Lorena and allowed her to live comfortably at home.