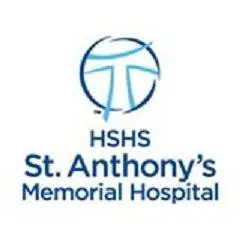 Heroin drug overdoses are a significant problem in Illinois and the Effingham area is not immune to it.  Because of it particular pharmacological properties, heroin carries an especially high risk of death from overdose as compared to other drugs that tend to be abused.  Therefore, the State of Illinois has legislation in effect (Public Act 096-0361) which makes it legal in Illinois for non-medical persons to administer Naloxone, a prescription medicine that reverses an overdose by blocking heroin or other opioids in the brain for 30 to 90 minutes.  More commonly known as its brand name, "Narcan," this medicine is crucial in saving lives before the person undergoing an overdose can make it to the ER.  However, the Public Act requires clinical oversight of the drug overdose prevention program, and Narcan doses can sometimes be cost-prohibitive for emergency responders.
Recently, HSHS St. Anthony's Memorial Hospital began partnering with the Effingham City Police Department that allows the police department to have doses of Narcan in nasal spray form to use in cases of heroin overdoses.  The hospital donated $300 to the Effingham City Police Department to have doses available during all of their shifts, and will continue to contribute funds to replace any Narcan doses as needed.  In addition, Ryan Jennings, MD, HSHS St. Anthony's Memorial Hospital's Chief Medical Officer, will provide clinical oversight and consultation services for the program.
Kelly Sager, St. Anthony's Chief Nursing Officer, shared why the hospital wanted to partner with the Effingham City Police Department in this program.  "At St. Anthony's, we know that we can't be there on the front lines in those cases when someone is experiencing an overdose. Time is of the essence with overdoses, and we want to provide our emergency responders with the tools they need to help save lives before they can get them to our Emergency Department."
Effingham City Police Chief Jeff Fuesting shared his appreciation for St. Anthony's support of the Police Department's efforts to prevent fatal drug overdoses. "We appreciate the support from St. Anthony's Memorial Hospital by equipping Effingham Police Officers with Narcan that will give us an opportunity to save lives. Often Police Officers arrive prior to EMS and when minutes matter, it can be the difference in life and death. Since 2015 Effingham County has experienced four overdose deaths," said Chief Fuesting.
For more information about HSHS St. Anthony's Memorial Hospital, visit the hospital's web site at stanthonyshospital.org.  HSHS St. Anthony's Memorial Hospital is part of the Southern Illinois Division of Hospital Sisters Health System, which also includes HSHS St. Elizabeth's Hospital in Belleville, HSHS St. Joseph's Hospital in Breese, HSHS Holy Family Hospital in Greenville, and HSHS St. Joseph's Hospital in Highland.