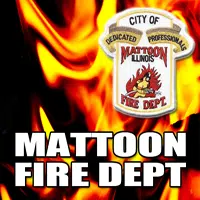 According to a press release from the MFD, the Mattoon Fire Department responded to a working structure fire at 909 Wabash Avenue, Sunday evening, April 9, 2017, at 2205 hours. Upon arrival on the scene, fire crews reported heavy smoke in the basement and flames showing by the back door up and in the ceiling between first and second floor.
Fire crews entered the residence and were able to knock the fire down. There was fire in the walls and ceiling areas that was found during overhaul. Smoke, fire and water damage was noted throughout the residence.
Two occupants were home at the time of the fire. There were no injuries reported.   The cause/origin of the fire is still under investigation.
Time of Call – 2205 hours
On Scene – 2210 hours
Cleared – 0023 hours
Mattoon Fire Department would like to remind everyone to have a working smoke alarm in the house and to practice their Home escape plan.
Install smoke alarms inside and outside each bedroom and sleeping area. Install alarms on every level of the home. Install alarms in the basement.
Large homes may need extra smoke alarms.
Test all smoke alarms at least once a month.
Press the test button to be sure the alarm is working.
Roughly 3 out of 5 fire deaths happen in homes with no smoke alarms or the alarms are not working.
*Safety tips from the NFPA National Fire Protection Agency.