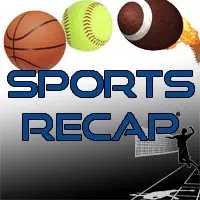 Area baseball from yesterday:
EIU rallied from four down to beat Butler, 10-6, Lake Land lost to Lincoln Trail, Mattoon over Newton, 6-4, St. Anthony defeated T-town, Altamont shut out Ramsey, 12-0, Effingham beat Neoga, Tri-County lost to Oblong, Dieterich took down Clay City, 17-7, North Clay edged South Central, 5-4, Windsor/Stew-Stras roughed up Cumberland, 15-6, Olney beat Salem, Villa Grove-Heritage over Danville Schlarman, Flora beat Grayville, 15-2, and Robinson blanked Mount Carmel, 10-0.
Softball:
EIU was a 1-0 winner over Fort Wayne, Lake Land swept Olney Central, 15-3 and 10-0, Charleston beat Altamont, Arthur-Lovington/Atwood-Hammond won, as did Cumberland, South Central, Tuscola, Oblong, Neoga, Effingham, and Olney.
The Mattoon girls' track team won its invitational.  Charleston finished second.  Pana won the girls' Tri-County Invitational.  Arthur-Lovington/Atwood-Hammond was second.  Shelbyville took the title at the Tri-County boys' invite.  Pana, Sullivan, Arcola and Arthur-Lovington/Atwood-Hammond rounded out the top five.  Salt Fork won the boys' Pirate Invitational at Cumberland.  Altamont was second and the Pirates finished third.