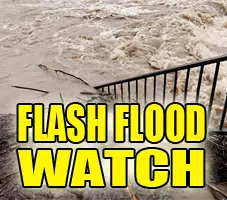 A flash flood watch is in effect through Monday morning.  Portions of central Illinois, east central Illinois, and southeast Illinois will likely be impacted.
In addition, a flood warning will be in effect tomorrow until further notice for the Little Wabash river, affecting Clay and Richland counties.
In central Illinois:  Christian, DeWitt, Logan, Macon, McLean, Menard, Piatt, Sangamon, and Shelby counties.
In east central Illinois:  Champaign, Clark, Coles, Cumberland, Douglas, Edgar, Moultrie, and Vermilion counties.
In southeast Illinois:  Clay, Crawford, Effingham, Jasper, Lawrence, and Richland counties.
Rain is expected to begin this evening, with periods of heavy rainfall expected over the weekend.  By Monday morning, a large area of 4 to 5 inches of rain is expected between the Illinois River and I-57, with locally heavier amounts between I-55 and I-57.  Between the I-57 corridor and the Indiana border, 3 to 4 inches are expected.  Currently, forecasters say the heaviest rain is expected Saturday afternoon into early Sunday.
In addition to potential flooding of streets and roads in flood prone areas, rivers and streams are also likely to experience flooding. This would persist for several days after the rain ends.