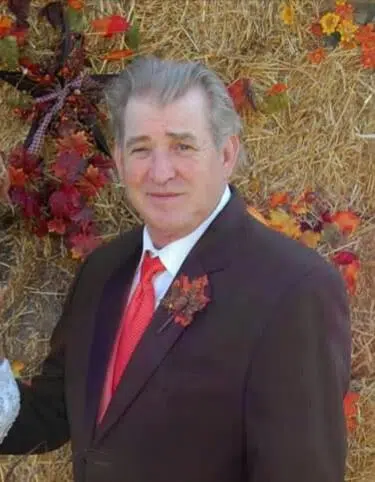 Gary Allen Goss, age 68, of Ste. Marie, Illinois, passed away at 8:10 AM – Monday, May 8, 2017, south east of Ste. Marie, Illinois.
Private family services will be held.  In loving memory of Gary, memorials may be made to the Ste. Marie American Legion Post #932.  Arrangements are under the care of the Meyer Funeral Home in Newton, Illinois.   The obituary can be viewed and condolences left at www.meyerfh.com.
Gary was born on December 12, 1948, at the family home in Bend, Jasper County, Illinois, the son of Joseph and Madeline (Yager) Goss.  Gary graduated from Oblong High School in 1965.  After graduation he served his country in the United States Army as a cook during the Vietnam War.
Gary was a lifelong farmer and had worked as a meat cutter at Hartrich's in Ste. Marie, Illinois, and had also worked for many years for the Ste. Marie Township.  Gary was a 50 years member of the Ste. Marie American Legion Post #932.  He enjoyed playing pool, hunting, fishing, having cookouts for his family and friends and riding his 4 wheeler.
Gary is survived by:  Children – Mary (Jeremy) Lybarger of Ste. Marie, Illinois, Larry (Jamie) Goss of Newton, Illinois and Louie (April) Goss of Ste. Marie, Illinois.  Grandchildren – Desirae Goss, Jacob Goss, Colt Goss, Mikayla Goss, Adam Goss, Skylee Goss, Cheyenne Goss, Baylee Goss, Garridan Goss, Maverick Goss and Bristol Lybarger.  Great Grandchildren – Khloee Copper, Madi Goss, Owen Goss, Nixon Martin and Lucas Zuber.  Brothers and Sisters – Richard (Ronnie) Goss, Terry (Jane) Goss, Keith Goss, Mike Goss (Angie Leonard), Lenny (Chris) Goss, Dee Kurpiel (John Teevens), Carla (Bill) Waggoner, Tammy (John) Kistner and Poodie (Mark) Zumbahlen.  Special friend – Carol LeFever of Clay City, Illinois and several nieces and nephews also survive.
Gary was preceded in death by his parents, brothers Harold and Louis Goss and his special canine friend of 23 years, Buddy.