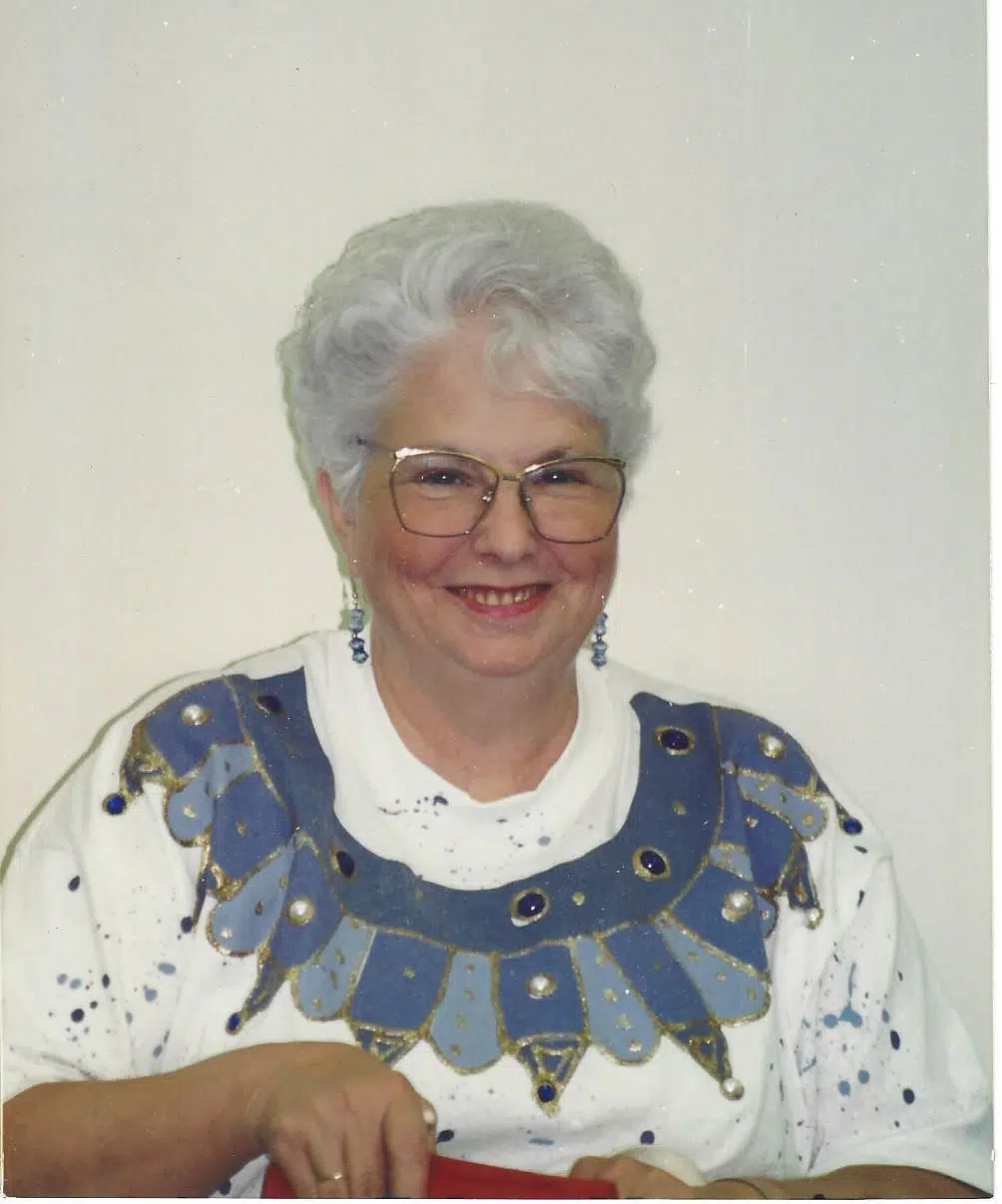 Wilma Ann (Whisennand) Spencer of Yale, IL passed away at St. Anthony Memorial Hospital in Effingham surrounded by her family on May 8, 2017. Wilma was 87 years old.
Funeral services will be at 10:00 am on Saturday, May 13, 2017 at the Yale Church of Christ. Visitation will be from 5:00 to 8:00 pm on Friday evening at the church. Burial will be in the Bethel Cemetery. The Barkley Funeral Chapel in Greenup is assisting the family.
Born on January 23, 1930, in Oblong, Wilma was one of three children of Karl and Marie Imogene (Moran) Whisennand. A 1948 graduate from Oblong High School, Wilma worked for the Robinson Water Company from 1948-1950. She married Billy Dean Spencer on February 4, 1950 in the Newton courthouse by Judge Yellton. Billy and Wilma met at the Yale Church of Christ where they both attended for the rest of their lives.
After marriage, Wilma became a farm wife and mother of four—Jerry, Brad, Jim and Christie. The family lived on a farm outside of Yale where Billy was raised. In 1958, Wilma became the secretary at the Yale Grade School when her second son, Brad, started school—Brad always told his mother they started school at the same time. She worked there until her retirement in the early 90's. Wilma was an active member of the Grandville Home Extension Club, Robinson Saddle Club, 4-H Club Leader and a member of the Yale Church of Christ. She loved  her family, church and camping. Bill and Wilma enjoyed many happy times on camping and horseback riding trips with their grandchildren. A large and loving family is Wilma's crowning glory. She loved hosting the family for holidays and Sunday family gatherings. She made countless batches of chocolate chip cookies with her grandchildren and was particularly known for Oreo and Butterfinger desserts and her cakes—which she never wanted cut until they were iced, but with three boys she knew that was going to happen.
Wilma is survived by her husband Bill, brother Karl (Ramona) Whisennand of The Woodlands, Texas and sons Jerry (Ruth) Spencer of Yale, Brad (Prudence) Spencer of Yale, Jim (Sue) Spencer of Yale and daughter Christie Wagner of Newton. Wilma is also survived by nine grandchildren and 12 great grandchildren with another on the way: Jamie (Tim) Bradbury, Casey; Ann (Jamison) Weger, Hartfod, Wisconsin; Sarah (Kenni) Crane, Madisonville, Kentucky; J.D. (Nichole) Spencer, Rose Hill; Jennifer (Ryan) Staley, Newton; Karl (Amanda) Spencer, Yale; Monica (Luke) McDaniel, Albion; Brynn (Jessica) Wagner, Plymouth, Minnesota; and Dorothy (Jordan) Tate, Ankeny, Iowa. A great niece and nephew also survive Wilma: Amber (Kevin) Farris, Paris; and Tom (fiancé Mariah Butcher) Bell, Oblong. Two sister-in-laws also survive Wilma: Ruth (Vernon) Bell, Cahokia; and Alice (Ted) Marrs, Rose Hill. Wilma is preceded in death by her mother, father and step mother, Clara (Rodebaugh) Whisennand, sister Betty (Mack) Woods, brother-in-laws Vernon (Ruth) Bell and Denzel Spencer, and son-in-law Mark Wagner.
The family would like to extend sincere appreciation and thanks to the wonderful women who provided in-home care to Wilma during her final years on earth: Janet Rubsam, Stephanie Frichtl, JoAnn Wade, Betty Smithenry and Whitney Brandenburg. Memorials may be made to the Grandville Township Cemetery Fund or the Yale Church of Christ. Online condolences can be expressed at www.barkleyfuneralchapels.com