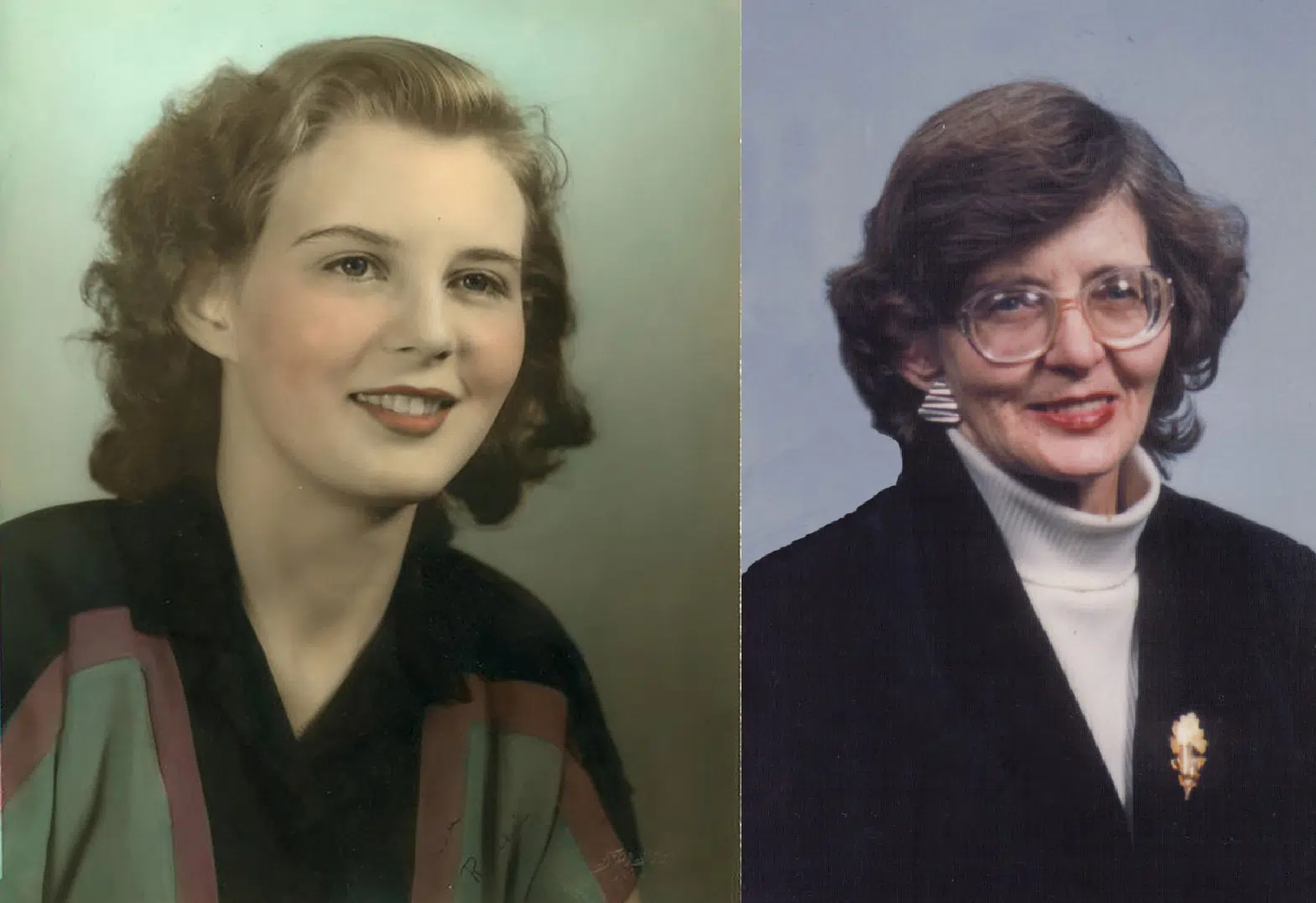 Ruth Evans, 86, claimed victory over Alzheimer's Disease on May 25, 2017. She was born October 10, 1930, in Neoga, IL, to John Charles and Elsa Louise (Salzman) Anderson. She married Richard Evans on July 16, 1949 in Neoga, IL. He preceded her in death on January 7, 2006. Her parents and two brothers, Norman and Jack, also preceded her.
Ruth had a true servant's heart, feeding thousands of people as a cook for various restaurants, and frequently fed those who could not pay at the restaurant she owned in Neoga. She served on Ladies Aid and in the choir at St. Paul's Lutheran Church in Sigel, and was nearly always a room mother when her children were in school. She was well known for her homemade pastries, soups, and breads, and her ability to prepare very large, delicious meals for her family. Ruth also served as a Sunday School teacher at St. Paul's for many, many years.
She had a heart for any animal in distress, and frequently nursed orphaned baby rabbits, birds, and other wild animals back to health. She enjoyed nature and gardening tremendously. Her love of natural beauty took her to Alaska three times, where throughout her seventies she hiked, kayaked, and climbed mountains with her son, Rick, and his wife, Sue. In 2008, at the age of 78, she realized another lifelong dream of hiking on a portion of the Appalachian Trail, with her son Randy, and his wife, Patty.
Left to cherish her memories are her six children: Richard Evans, Jr., (wife Sue), of Michigan; Randy Evans (wife Patty), of Lerna, IL; Rhonda Laughlin (husband Keith), of Springfield, IL; Rodney Evans, of Neoga; Ruthie Gergeni (husband Chris), of Versailles, IN; Rob Evans (wife Debbie), of Billings, Montana. Ruth doted on her grandchildren and made dozens of cookies with them, and even baked a few dozen. Her grandchildren are: Luke Evans (wife, Katie), of Fisher, IL; Zach Russell (wife, Laura), of Kansas City, Missouri; Joshua Evans, Jacob Evans, and Jessica Evans, of Mattoon, IL; Griffin Gergeni, of Versailles, IN; her great-grandchildren, Britney Shaffer and Liam Evans, of Fisher, IL; her siblings Judy Peters (husband Richard), of Trilla, IL; Robert Anderson (wife Sue), of Hinckley, IL; and many nieces and nephews.
Memorial contributions may be made to St. Paul's Lutheran Church, the Alaska Conservation Foundation, or the Alzheimer's Association.
Funeral Services for Ruth will be held  at 12:00 P.M., (Noon), Tuesday, May 30, 2017, in the St. Paul's Lutheran Church, of Sigel IL, with Pastor, Glenn Strohschein, officiating. Visitation for family and friends will be held from 10:00 A.M., Tuesday, until service time at the Church.  Burial will be in the St. Paul's Lutheran Cemetery of Sigel, IL.
Ruth's family would like to commend the staff of Evergreen Nursing & Rehabilitation Center for the outstanding care they provided to Ruth and for the love they showed to our precious mother and grandmother.
The Swengel-O'Dell Funeral Home of Neoga, is in charge of arrangements.
on line condolences may be expressed at swengel-odell.com