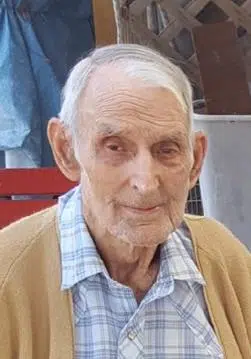 Orville Joshua Milliman passed away Monday, June 5, 2017 at Burgin Manor in Olney, Illinois.
Funeral services honoring Orville's life will be held at 10:00 a.m., Friday, June 9, 2017 at the West Liberty United Methodist Church with Rev. Kenny Miller officiating.  Visitation will be held from 4:00 p.m. until 8:00 p.m., Thursday, June 8, 2017 in the church.  Burial will be in the Saint Pauls Lutheran Cemetery.  Crain Funeral Home, Newton is assisting the family with arrangements.
Orville was born on September 27, 1924, in Ste. Marie Township, Jasper County, Illinois the son of Don Cleveland and Beulah S. (Short) Milliman.  Orville married Dorothy Louise Robins on November 14, 1943.  She survives. To this union were born nine children, Orval Ray, Sharon, Beverly, Dale, Janet, Sandra, Nancy, Nick, and Richard.  Orville spent his life as a grain and livestock farmer.  He was an active member of the West Liberty United Methodist Church and spent many years as a 4-H leader.  Orville loved horses and mules.  He enjoyed spending time trail riding and camping with family and friends.  Orville was an excellent trail guide, having led many trips for family and friends through the Shawnee Forest.
Orville will be loved and remembered by his wife of seventy-three years Dorothy of West Liberty; sons Dale Milliman, wife Christine of West Liberty, Nick Milliman, wife Jody of Newton and Richard Milliman, wife Terry of West Liberty; daughters Sharon L. Saunders, husband Bob of Fennville, MI, Beverly Tanner, husband Howard of Fairfield, Sandra Goebel, husband Larry of Montrose, and Nancy Tarr, husband Tom of Newton; son-in-law Jeff Meadows of Willow Hill;  twenty-five grandchildren; forty-eight great-grandchildren; and six great-great grandchildren.
His parents, son Orval Ray Milliman, daughter Janet Sue Meadows, three grandchildren, one great-grandchild, brother Harold Milliman, and sisters Delilah Wilkerson and Blanche Chapman preceded him in death.
Memorial gifts in honor of Orville may be made to Honey Do Ministries, 305 E. Morgan St. Newton, Illinois  62448.
Online condolences may be offered at www.crainfuneral.com.