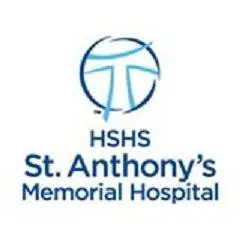 (EFFINGHAM, IL) – The Commission on Cancer (CoC), a quality program of the American College of Surgeons (ACS) has granted Three-Year Accreditation to the Cancer Program at HSHS St. Anthony's Memorial Hospital in collaboration with Crossroads Cancer Center. To earn voluntary CoC accreditation, a cancer program must meet 34 CoC quality care standards, be evaluated every three years through a survey process, and maintain levels of excellence in the delivery of comprehensive patient-centered care.
St. Anthony's Memorial Hospital takes a multidisciplinary approach to treating cancer as a complex group of diseases that requires consultation among surgeons, medical and radiation oncologists, diagnostic radiologists, pathologists, and other cancer specialists.  This multidisciplinary partnership results in improved patient care.  The Cancer Program at St. Anthony's has been in operation since 1977.
Teri Phillips, HSHS Southern Illinois Division Director of Health Information Management, shared what the survey results mean to St. Anthony's.  "This reaccreditation by the Commission on Cancer demonstrates St. Anthony's and Crossroads Cancer Center's leadership, commitment and dedication to providing the best possible care for cancer patients in this region," she said.
The CoC Accreditation Program provides the framework for St. Anthony's to improve its quality of patient care through various cancer-related programs that focus on the full spectrum of cancer care including prevention, early diagnosis, cancer staging, optimal treatment, rehabilitation, life-long follow-up for recurrent disease, and end-of-life care.
Receiving care at a CoC-accredited cancer program hospital such as St. Anthony's in collaboration with Crossroads Cancer Center ensures that you will receive:
Quality care close to home
Comprehensive care offering a range of state-of-the-art services and equipment.
A multidisciplinary, team approach to coordinate the best cancer treatment options available.
Access to cancer-related information and education.
Access to patient-centered services such as psychosocial distress screening and navigation.
Ongoing monitoring and improvement of care.
Assessment of treatment planning based on evidence-based national treatment guidelines.
Information about clinical trials and new treatment options.
Follow-up care at the completion of treatment.
A cancer registry that collects data on cancer type, stage, and treatment results, and offers patient follow-up.
One initiative of St. Anthony's Cancer Committee to encourage early diagnosis is to offer free colorectal screenings to promote colorectal health in the community. The goal, in partnership with the American Cancer Society's 80 x 2018 colorectal screening initiative, is to screen 80% of individuals over the age of 50 by 2018.  The most recent event, held in March 2017, screened 27 participants. Of those screened, 26 chose to do a take-home screening Fecal Immunochemical Test (FIT) and one chose colonoscopy. The screening resulted in one positive FIT test and one colonoscopy with benign polyps removed. The next screening event will be held in the spring of 2018.
There are currently more than 1,500 CoC-accredited cancer programs in the U.S. and Puerto Rico.  CoC-accredited facilities diagnose and/or treat more than 70 percent of all newly diagnosed patients with cancer.  When cancer patients choose to seek care locally at a CoC-accredited cancer center, they are gaining access to comprehensive, state-of-the-art cancer care close to home. The CoC provides the public with information on the resources, services, and cancer treatment experience for each CoC-accredited cancer program through the CoC Hospital Locator at https://www.facs.org/search/cancer-programs.
For more information about HSHS St. Anthony's Memorial Hospital, visit the hospital's web site at stanthonyshospital.org.  HSHS St. Anthony's Memorial Hospital is part of the Southern Illinois Division of Hospital Sisters Health System, which also includes HSHS St. Elizabeth's Hospital in Belleville, HSHS St. Joseph's Hospital in Breese, HSHS Holy Family Hospital in Greenville, and HSHS St. Joseph's Hospital in Highland.