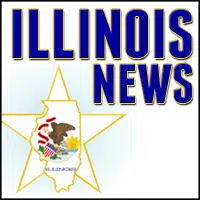 AURORA (Oct. 5, 2017) — Gov. Bruce Rauner celebrated National Hispanic Heritage Month (Sept. 15-Oct. 15) today by visiting several Hispanic-owned small businesses in Aurora and presenting them with certificates in recognition of their service. He also took the opportunity to announce that the federally funded Small Business Development Center network — administered by the Illinois Department of Commerce and Economic Opportunity — is seeking new sites in underserved communities.
His first stop was at the Cano Container Co., which started with just three employees in 1986, but has now grown to employ 31. "For us here at Cano Container, we are very excited and proud to have [the governor] visiting our facility," founder Juventino Cano said. "It's going to be an honor for all of our employees and myself." Rauner presented a certificate to Cano for his 31 years of outstanding service.
Accompanied at a press conference by Lt. Gov. Evelyn Sanguinetti and Marcus Yanley from the Illinois Department of Commerce, Rauner encouraged minority entrepreneurs and small business owners by announcing that the federally funded Small Business Development Center network desires new applicants to host centers in minority and underserved areas. "The resources and assistance these centers give to our talented entrepreneurs strengthen our economy from the local level," the governor said. "We are looking to further extend our reach to minority communities through this new recruitment of applications."
"The Department of Commerce has been focused on better serving minority communities across Illinois," added Yancey. "Recruiting new SBDCs within these areas will foster potential, not only to serve the individual, but also in the hopes of creating growth and good paying jobs for Illinoisans."
The Small Business Development Center network (SBDC) currently comprises 30 small business development centers, seven procurement technical assistance centers and nine International Trade Centers across the state. These have helped launch 490 businesses, create over 2,550 jobs, secure $189 million in business capital, win over $824 million in government contracts, and produce $253 million in export sales. Information is available for those wishing to host a center at the Department of Commerce and Economic Opportunity  website, www.illinois.gov/dceo.
The governor later in the day visited La Chicanita Bakery, a Mexican bakery selling authentic Mexican bread and pastries. He presented owner and founder Graciela Argueta a certificate recognizing her 28 years of outstanding service to the community. The bakery was first established in 1989 and has since opened a second location in Crestwood.
"These are great examples of Illinois' successful minority-owned businesses," Rauner said. "National Hispanic Heritage Month is the perfect opportunity to recognize businesses like these that help grow our state's economy. Through the Small Business Development Center network, we want to reach as many business builders as we can to help them grow and prosper."