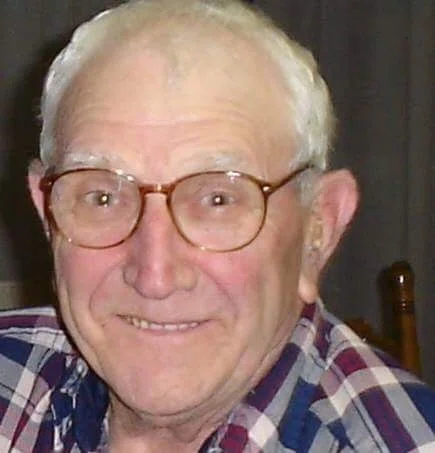 Eldon Max Meyer, age 85, of Dieterich, Illinois, passed away peacefully, at 3:20 PM – Saturday, October 7, 2017, at Lakeland Rehabilitation and Health Care Center in Effingham, Illinois.
Mass of Christian Burial will be celebrated at 10:30 AM – Wednesday, October 11, 2017, at the St. Aloysius Catholic Church in Bishop Creek, Illinois (Rural Dieterich).  Burial will be the Immaculate Conception Cemetery in Dieterich, Illinois, with full military rites by Dieterich American Legion Post #628.  Visitation will be 4:00-7:00 PM – Tuesday, October 10, 2017, at the Meyer Funeral Home in Dieterich, Illinois.  There will also be visitation 9:30-10:00 AM – Wednesday, October 11, 2017, at the funeral home.  In lieu of flowers, memorials may be made to Dieterich Meals on Wheels or a Dieterich organization of the donor's choice.  The obituary can be viewed and condolences left at www.meyerfh.com.
Max was born on July 11, 1932, in rural Dieterich, Illinois, the son of Frank and Florica (Foster) Meyer.  He married Sara Jane Hoedebecke at St. Francis of Assisi Church, Teutopolis, on September 7, 1957, and she survives.
Max graduated from Dieterich Grade School.  After attending high school for a short time, he started working at J. M. Schultz Seed Company in Dieterich, and also assisted his father on the farm.  He also worked for Elmer Lude Trucking.  He joined the United States Army in 1954 and served in Germany until 1956.  After his discharge, he worked for Probst Electric in addition to his other jobs.  He retired from Schultz Seed Company after 30 years.  Max and his wife Sara purchased Meyer's Grocery Store in July 1978 and ran it for close to 20 years.  He also served as a courier for the First National Bank of Dieterich.
Max loved Dieterich and wore many hats there during his lifetime.  He coached the Dieterich Dodgers Little League teams for over ten years.  He served as the village constable from 1962-1972.  He joined the Volunteer Fire Department in 1961 and served as fire chief for six years until his retirement in 1991.  He served on the Village Board for over 30 years.  He was a member of Dieterich American Legion Post #628 where he served as commander from 1986-2006.  He was chairman of the Fourth of July celebration for seven years.  Max had many friends. He was the beloved "Unofficial Mayor" of Dieterich and a long-time "Pitch" card player.
Max is survived by his wife, Sara; children, Dennis (Roberta) Meyer of Effingham, Illinois; Terri (Doug) Funneman of Teutopolis, Illinois; Shari (Mark) Goldstein of Effingham, Illinois and Louis "Jake" (Diane) Meyer of Jacksonville, Illinois; grandchildren, Michelle Meyer, Laura (Justin) Sewell, Bobby, Claire, Matt, and Sean Meyer, Trisha Funneman, Mandy (Russ) Bloemer, Jessi (Jarrod) Tegeler, and Jay Funneman; Christine, Nick, Tom, and Ashley Goldstein, Travis Griffin, Christina (George) Lomelino, and Hannah, Hailey, and Garrett Meyer; great-grandchildren, Jasmine, Christian, and Evan Meyer, Alexis, Charlotte, and Kennedy Sewell, Kaleb Bannick, Cameron Kramer, Max, Alivia, Maci, and Bo Bloemer, Cooper and Brynn Tegeler, Evan Lomelino, Brock York, Mason Lomelino, and Braydon Griffith; brother, John Meyer; sisters, Iris Johnson and Inis (Joe) Probst; sisters-in-law, Margaret Meyer, Ruth Fouts, Marian Burford, Gail Probst, and Mary Werth.
He was preceded in death by his parents; brother, Francis "Donnie" Meyer; and sister Phyllis Russell.