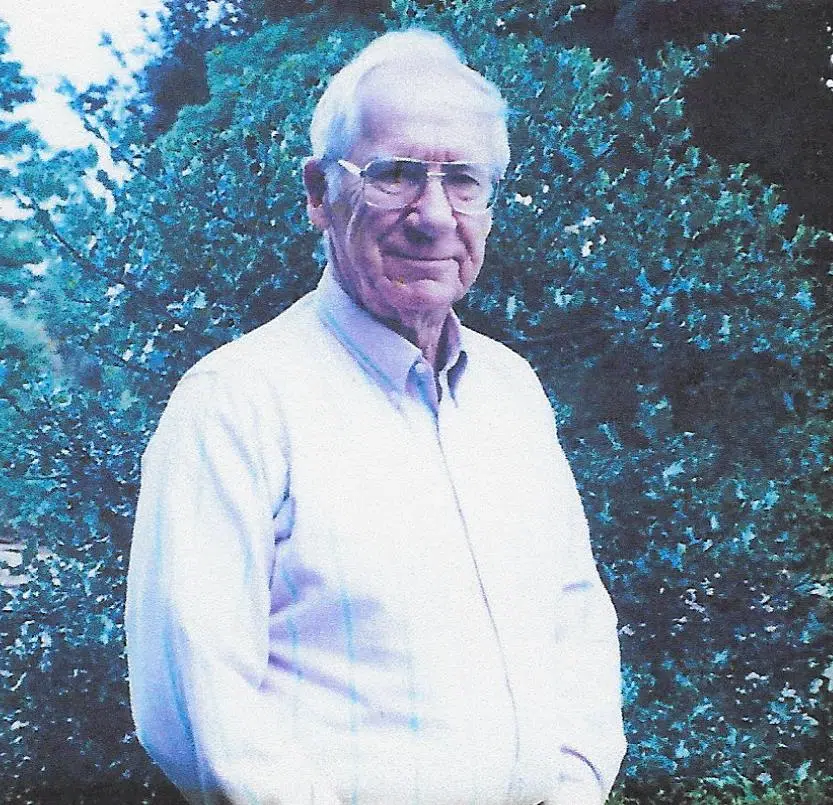 Carl Amos York, age 85, of Pharr, Texas, passed away at 9:15 AM – Monday, October 30, 2017, at Autumn Leaves of Flower Mound Assisted Living in Flower Mound, Texas.
Funeral services celebrating Carl's life will be held at 11:00 AM – Saturday, November 11, 2017, at the First Southern Baptist Church 404 US Highway 40 Greenup, Illinois 62428.  Burial will be in the Jewett Cemetery in Jewett, Illinois.  Visitation will be held 1 hour before the service in the church.  In loving memory of Carl, memorials may be made to the Mercy Hospice 2281 Olympia Drive Suite 100 Flower Mound, Texas 75028.  Arrangements are under the care of the Meyer Funeral Home – Bishop Chapel in Greenup, Illinois.  The obituary can be viewed and condolences left at www.meyerfh.com.
Carl Amos York was born on January 14, 1932, in Birds, Illinois, the son of Rev. Charles Amos York and Mrs. Gwendolyn (Cartwright) York.  Carl's father was a minister with the Evangelical Church which moved the family every two years to Allendale, Casey, Vergennes, Willow Grove, Salisbury (now called Hutton), and then they settled in Charleston, Illinois during his high school years.  He was the sixth of nine children and did his part to put food on the table by taking his gun and hound dog hunting after school.
Carl's practical skills were increased by a BS in Industrial Arts Education from EIU, an MS in Mathematics from NIU, and a PhD in Industrial Arts Technology from NCSU.  He taught High School and retired in 1987 from Fenton High School in Bensenville, Illinois where he was the Head of the Industrial Arts Department and greatly enjoyed the comradery.  He always had a project he was working on in car repair or woodworking.  Other hobbies included fishing and teaching adult Sunday School.
It was at EIU that Carl met his future wife, Clara Elizabeth Kingery of Jewett, Illinois, and they were married on January 14, 1955, in Westfield, Illinois with his father officiating.  They raised Mark, Susan, and Amy in the Chicago suburbs of Round Lake, Elk Grove Village, and Bensenville.  After the children left home, Carl and Clara travelled widely in an Airstream including many trips to Ogden, Utah, and Anchorage, Alaska, to see Amy's family.  During these years, Mark's family lived in Bement and then Litchfield, Illinois, and Susan and her British husband lived in Birmingham, England.
By the 1990s, Carl was a "winter Texan" at Tip O' Texas in Pharr and in the summers went up north to see the family.  When Clara became increasingly disabled by ALS, Carl took loving care of her until her death October 17, 1994.  After a few years, Carl met Clara Beverly York of McAllen, Texas and they shared a few years of married life until her death in 2003.   During these years he played and coached tennis at Tip O' Texas and played Bridge. In his later years, as he grew more frail, Carl lived in care homes near Amy in the Dallas area.
Carl was fondly known for his "wit and humor", lack of pretense, and a life of Christian testimony by his family, friends, and colleagues.
Children:  Mark Amos (wife Carol) York of Litchfield, Illinois; Susan Elizabeth York (husband Roger) Parker of Birmingham, England and Amy Louise York (husband Steve) Stripling of Flower Mound, Texas,Grandchildren:  Jackie Rowe (husband Eric) Hoffman of Anchorage, Alaska; Adam Scott (wife Harmony) Rowe of Anchorage, Alaska; Jacob Aaron Rowe of Anchorage, Alaska; Elizabeth Ann York of Logan, Utah; Peter Amos York of Cambridge, Massachusetts and David Amos York of East Lansing, Michigan, Sister:  Mary York Dahlke of Nashville, Tennessee,  Brother:  Alan Charles (wife Carolee) York of West Lafayette, Indiana, Sister-in-law:  Ella Mae Dellinger York of Halifax, Nova Scotia and  Brother-in-law:  Gardner Byler of Indianapolis, Indiana, and now Dunnellon, Florida
Carl was preceded in death by:  His parents:  Charles Amos York and Gwendolyn Henrietta Cartwright York, both of Indianapolis, Indiana and Charleston, Illinois, His first wife: Clara Elizabeth Kingery York of Jewett and later Bensenville, Illinois, His second wife:  Clara Beverly York of McAllen, Texas.  His brothers:  Robert York of Oconomowoc, Wisconsin; Halford York of Indianapolis, Indiana; Paul York of Moscow, Pennsylvania; David York of Halifax, Nova Scotia.  His sisters:  Margie York Byler of Indianapolis, Indiana and later Dunnellon, Florida; Alice York Gatto of Sauk Village and later Oak Forest, Illinois.