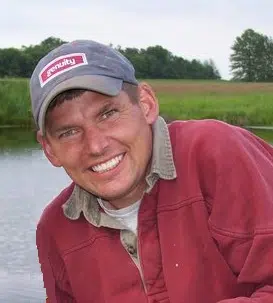 Dean James Dryden, 47, passed away at 4:04 pm on Saturday, November 4, 2017 at his residence surrounded by family and friends after a short, but intensive battle with cancer.
Funeral services will be at 10:00 am on Saturday, November 11, 2017 at the Barkley Funeral Chapel in Toledo. Visitation will be from 4:00 to 8:00 pm on Friday evening at the funeral chapel. Burial will be in the Upper Berry Cemetery, rural Toledo. The family requested everyone to dress casual.
Dean was born on November 10, 1969 in Mattoon, Illinois, the son of Dennis and Lois (Croy) Dryden. He graduated from Cumberland High School in 1987. He then graduated from Lakeland College. He married Jennifer Eiserle on August 5, 2006.
He is survived by his loving wife, Jennifer and their son, Elliot. Dean is also survived by his parents of Jewett, sister Donna (Chris) McClellan of Jewett; grandfather Jim Dryden of Toledo; in-laws Richard & Sylvia Eiserle; brother-in-law Tim (Robin) Eiserle, sisters-in-law Stacy (Phil) Accardi and Janet (Dave) LeMay; nieces and nephews: Kort and Josie McClellan, William and Sam Eiserle and Tyler Accardi; Our farm family, Alvin and Connie Kingery of Toledo, maybe not by blood, but definitely by spirit & souls. We could not be where we are on so many levels without them. Dean considers them his second set of parents.
He was preceded in death by his brother Duane Dryden, grandparents Holly and Flora Croy and Leoma Dryden.
Dean was a farmer, it was his lifelong dream and passion. He worked for a few years at the ASCS office until he could fulfill that dream. He truly loved his work, but greater than that was Dean's love for his son Elliot, it was like no other. Dean and Elliot were always side by side, whether it was running errands on the farm or watching hunting videos together, they were kindred spirits and they shared Dean's old soul. They are buddies FOREVER. Known to his friends as Disco, he will forever be remembered for his shining smile and being an all-around  good guy.
In lieu of flowers, Dean's request for memorials can be made in his name to benefit teachers and students at Cumberland schools with classroom needs. Online condolences can be expressed at www.barkleyfuneralchapels.com