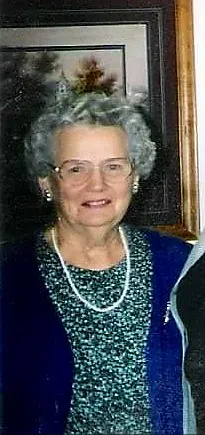 Harriet Rosalee Laymon, 89, of Greenup, IL passed on December 19th 2017 at Carle Foundation Hospital in Urbana, IL.
Funeral services will be at 10:00 am on Saturday December 23rd 2017 at the Hazel Dell Church of God. Visitation will be held from 5:00 to 7:00 pm on Friday at the Barkley Funeral Chapel in Greenup, IL. Burial will be in the Hazel Dell Cemetery.
Harriet was born in Cumberland County on March 15th 1928 to Lawrence M. and Mamie (Vaughn) Carlen. She married Charles Laymon on March 17th 1951 and he preceded her on November 10th  2003. Surviving are children Becky Coleman Williams of Marshall, Gene (Sandy) Laymon of Hazel Dell, Tim (Sheila) Laymon of Greenup and Cynthia (Tim) Sanders of Weston Lakes, TX; Brother Hubert "Tip" Carlen of Greenup; Sisters Lena Wofford of Casey, Madonna Seitz of Springfield and Shirley Poffenbarger of Mattoon; Grandchildren Crystal (Rusty) Roe, Carrie (Darin) Patrick, Caryn (Tim) Parli, Lyn (Bryan) Cochonour, Seth Laymon, Kylie (Nick) Murphy, Tatum (Danny) Tonn, Trista (Kendal) Cisney, Tyndall (Brad) Nieburgge, Teal Green her fiancé Brandon Nieburgge, Megan (Anthony) Scheff, Mitchell (Stephanie) Markwell and Macy Markwell; 17 Great Grandchildren. She was preceded in death by her parents, infant daughter Ramona; Brothers Floyd and Robert Carlen; Sisters Dorothy Henderson, Jane Jones and Lela Wendling.
Harriet was a homemaker and for about five years she worked at Bell Telephone in Springfield. She was member of the Hazel Dell Church of God. Memorials in her name can be made to the Hazel Dell Church of God. Online condolences can be expressed at www.barkleyfuneralchapels.com