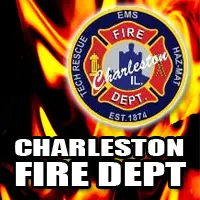 The Charleston Fire Department was dispatched to a structure fire at 1001 Elm Street at 3:48 this morning. When crews arrived on scene they found heavy smoke and fire coming from the residence. Due to the amount of damage to the residence a defensive attack was made from the exterior of the structure. A second box alarm was requested to bring in additional personnel and equipment.
The resident was home at the time of the fire and was able to escape without injury. The fire originated somewhere in the area of the kitchen and bathroom. The exact cause has been listed as undetermined due to the structure being a complete loss. No injuries were reported. Crews were on scene until around 9:45am.
The Charleston Fire Department was assisted by the Mattoon Fire Department, Lincoln Fire Protection District, Mitchell-Jerdan Ambulance, Charleston Police Department, and the City of Charleston Buildings Department.