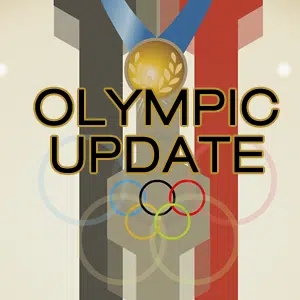 If you plan on watching prime time coverage of the Olympics tonight, you may not want to read these updates:
Andringa Last U.S. Medal Hope In Men's Ski Moguls
(PyeongChang, South Korea)  —  American Casey Andringa is the last medal hope for the U.S. in men's ski moguls.  He finished third in the second of three finals runs, with the top-six advancing.  Fellow Americans Troy Murphy and Brad Wilson did not make it out of the first final, while Emerson Smith was eliminated in today's second qualifying run.
Women's Normal Hill First Round This Morning
(PyeongChang, South Korea)  —  Medals will be awarded this morning in women's normal hill ski jumping.  A trio of Americans are competing in the first round, with Sarah Hendrickson, Nita Englund and Abby Ringquist representing Team USA.  Hendrickson is a former world champion and considered the top U.S. medal hope.  The final is at 8:35 a.m. Eastern.
U.S. Wins Team Figure Staking Bronze
(PyeongChang, South Korea)  —  The U.S. won the bronze in team figure skating.  Bolstered by stellar performances from Adam Rippon [[ RIP-on ]] in the men's free skate, Mirai Nagasu [[ mir-EYE  nah-GAH-soo ]] in the ladies' free skate, and the Shibutani siblings in ice dance, the U.S. finished third behind Canada and the Olympic Athletes from Russia.
U.S. Women's Hockey Plays Second Game Tomorrow
(PyeongChang, South Korea)  —  The U.S. women's hockey team is back on the ice for its second game of preliminary-round play tomorrow.  Team USA will take on the Olympic Athletes from Russia at 7:10 a.m. Eastern.  The Americans opened the tournament with a 3-1 win over Finland on Sunday.  The U.S. has won silver each of the last two Olympics.
Norway Tops Medal Standings, U.S. Fifth
(PyeongChang, South Korea)  —  Norway continues to lead the medal count in PyeongChang with eight.  Canada is second with six medals, followed by Germany and The Netherlands with five.  Germany has an Olympic-best four gold medals.  The U.S. is fifth with four medals, including two gold.  Team USA led the medal count four years ago with 28.
###
Rick Maklebust/jm  SPT)
Copyright © 2018
TTWN Media Networks LLC

02-12-2018 06:08:10