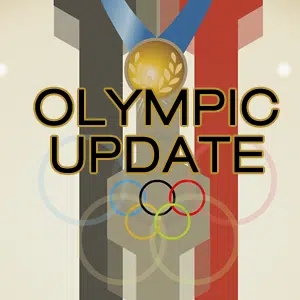 Stop reading here if you want to watch Olympic coverage and not know the results.
USA Women's Hockey Playing Russia
(PyeongChang, South Korea)  —  Team USA is trying for a 2-and-0 start in the women's hockey tournament.  The U.S. is playing the Olympic Athletes from Russia in their second game of the preliminary round.  The Americans led 1-0 after the first period on a goal by Kacey Bellamy.  Four-time defending champion Canada beat Finland 4-1 earlier today.
U.S. Celebrates More Snowboard Gold As Kim Wins Women's Halfpipe
(PyeongChang, South Korea)  —  The U.S. is celebrating more gold medal in snowboarding.  Seventeen-year-old Chloe Kim won the women's halfpipe.  She already clinched the gold before an even more spectacular third run.  American Arielle Gold beat out teammate Kelly Clark for bronze.  Red Gerard [[ jir-ARD ]] won men's slopestyle gold on Saturday.
White Sets Pace In Men's Halfpipe Qualifying
(PyeongChang, South Korea)  —  American snowboarder Shaun White is making good on his redemption quest in the men's halfpipe.  He posted the top score in qualifying last night.  The 2006 and 2010 gold medalist finished fourth four years ago in Sochi [[ SO-chee ]].  Americans Ben Ferguson, Chase Josey and Jake Pates also advanced to tonight's final.
No Medal For Ligety In Men's Alpine Combined
(PyeongChang, South Korea)  —  It was a fifth-place finish for U.S. skier Ted Ligety [[ LIG-eh-tee ]] in the men's Alpine Combined.  Bryce Bennett came in 17th and Jared Goldberg placed 36th out of 37 finishers.  Ryan Cochran-Siegle did not advance from the downhill portion.  Austria's Marcel Hirscher [[ HIR-shur ]] won gold.  France took both silver and bronze.
Netherlands First, U.S. Fifth In Medal Count
(PyeongChang, South Korea)  —  The Netherlands is now on top of the medal standings.  They have an Olympic-best 10 medals.  Canada and Norway are tied for second with nine, and Germany is fourth with seven.  Team USA is in fifth place overall with six medals, including three gold.  The Netherlands and Germany each have four gold medals to their credit.
###
Rick Maklebust/acc      SPT)
Copyright © 2018
TTWN Media Networks LLC

02-13-2018 06:08:08