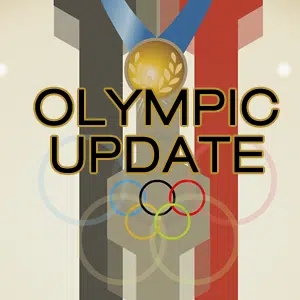 Shiffrin Makes 2018 Debut With Gold Medal In Women's Giant Slalom
(PyeongChang, South Korea)  —  The 2018 Olympic debut of American skier Mikaela Shiffrin is golden.  She took the lead in her second run and won the gold medal in the women's giant slalom.  Shiffrin had to wait twice this week when her events were postponed by high winds.  She'll try to repeat tonight as Olympic champ in the women's slalom.
Team USA Finishes 15th In Figure Skating Pairs
(PyeongChang, South Korea)  —  It was not to be for American figure skaters Chris and Alexa Knierim.  The husband and wife duo finished 15th out of 16 in the pairs competition.  They were 14th after Tuesday's short program, but dropped one more spot in last night's free skate.  They did win a bronze medal in the team competition.
U.S. Misses Out In Big Final Of Men's Snowboard Cross
(PyeongChang, South Korea)  —  Team USA finished off the podium in the big final of men's snowboard cross.  Nick Baumgartner finished fourth and Mick Dierdorff fifth in the six-man final.  They placed second and third, respectively, in the second semifinal to advance.  France won the gold medal, Australia took silver and Spain claimed the bronze.
Bennett Finishes 15th In Delayed Men's Downhill
(PyeongChang, South Korea)  —  After a previous weather postponement, the men's downhill was finally run last night.  Bryce Bennett was the top American finisher in 16th place.  Fellow Americans Jared Goldberg, Ryan Cochran-Siegle and Wiley Maple placed 20th, 23rd and 30th, respectively.  Norway took gold and silver.  Switzerland won bronze.
Team USA Fifth In Medal Standings
(PyeongChang, South Korea)  —  Team USA is in fifth place in the medal standings at the Winter Games.  Americans have won eight total medals, with five gold, one silver and two bronze.  Norway continues to lead all nations with 16 medals.  Germany is second with 14, including an Olympic-best eight gold.  The Netherlands and Canada have 11 medals.
###
Rick Maklebust/acc      SPT)
Copyright © 2018
TTWN Media Networks LLC

02-15-2018 05:14:06