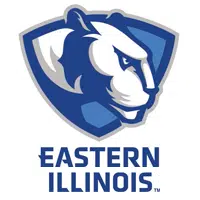 (Charleston, IL) – During their last regular season home win over SIUE, the Eastern Illinois University women's basketball team raised and donated $10,000 to the Sarah Bush Lincoln Regional Cancer Center for the immediate needs of its Cancer Center patients.
In its inaugural CARE Game February 24, EIU Athletics joined with the community and local schools to support those fighting cancer in the region. The CARE Game was sponsored by Wave Graphics of Mattoon with additional support from First-Mid Illinois Bank & Trust, First Federal Savings and Loan Association, Odd Fellow-Rebekah Home, and Kima Cleaning and Restoration, along with several individual donors.
Ashmore Elementary, Carl Sandburg Elementary, Charleston Middle, Mattoon Middle, Riddle Elementary, and Williams Elementary schools assisted in the fundraising by conducting a "Penny DRIVE" in their individual classrooms. Students in participating classrooms collected donations in personalized jugs, which were then displayed at the event. In all, 120 classrooms participated in the drive. Ashmore Elementary raised the most—more than $1,100—with Mrs. Hebert's kindergarten class leading the Ashmore school with $393.01 raised.
In addition to raising funds and increasing cancer awareness and prevention, the event honored local cancer survivors with a reception and special seating during the game. Members of the EIU football team served as ushers for cancer survivors during the event.
Members of the EIU women's basketball program look forward to serving the community by continuing this event in the upcoming years.
For more information about EIU, or to learn more about its various programs and services, visit the EIU website at www.eiu.edu, or call EIU's public information office at (217) 581-7400.