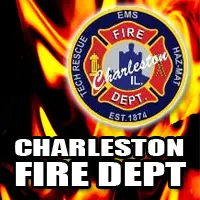 According to the Charleston Fire Department, on April 25, 2018 at 10:59 am the Charleston Fire Department was dispatched to 325 Van Buren in Charleston for a report of a structure fire. When crews arrived on scene they found heavy smoke coming from the residence. When crews entered the home they found fire coming from the kitchen and were able to
quickly extinguish the fire. The resident was home at the time of the fire and was able to escape. It was determined that the fire had started in the kitchen due a grease fire from an unattended pot on the stove. The kitchen sustained heavy fire
damage and there was heavy smoke damage throughout the home.
No injuries were reported. The residents made arrangements to stay at another location.
Crews were on scene until around 12:45pm. The Charleston Fire Department was
assisted by Mattoon Fire Department, The City of Charleston Building Department
and Ameren CIPS.