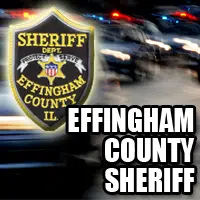 Five vehicles were involved in a chain-reaction crash near Effingham yesterday morning.
According to the Effingham County Sheriff's Department, a vehicle driven by Carol Britton, of Beecher City was stopped in traffic.  Christine Frost, of Sullivan was slowing when her vehicle was rear-ended by Wyatt Smith, of Stewardson.  The impact forced Frost's vehicle off the roadway, while Smith's vehicle continued south and rear-ended the Britton vehicle.
After that, a vehicle driven by Megan Schlechte, of Strasburg hit Smith's vehicle, and yet another vehicle, driven by Samantha Radloff, of Shelbyville collided with Schlechte's vehicle.
Kassie Vonderheide, a passenger in Schlethte's vehicle was taken to St. Anthony's Memorial Hospital for treatment of injuries.