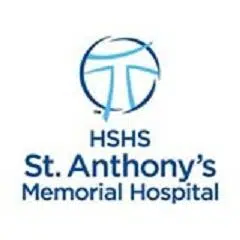 For Immediate Release
(EFFINGHAM, IL) – Lung cancer continues to be one of the most common cancers worldwide, claiming more lives yearly than breast, colon and prostate cancers combined. It is estimated that lung cancer accounts for nearly one in five cancer deaths globally.
To call attention to this growing issue, World Lung Cancer Day, August 1, was started in 2012 to promote educational efforts and resources. The project was started by a lung cancer survivor and now acknowledged by health care facilities and communities of people across the globe that has experienced the effects of lung cancer. The goal of the day is to spread awareness about the impact of lung cancer, how to prevent it, signs and symptoms, and the many resources available to treat the disease.
"For the general public it is important, first and foremost, to not smoke at all or start a smoking cessation program to help them quit immediately," said Steve Jones, MD, who is HSHS St. Anthony's Memorial Hospital's chief of Surgery Clinical Services and chairperson of the Cancer Committee. Dr. Jones says, "This is important for the smoker and for those around them who can also be affected by second hand smoke."  About 85 percent of all lung cancers are found in smokers and the remainder is caused by second-hand smoke exposure.
Lung cancer is unfortunately one of those diseases where symptoms may not present until the late stages, when treatment options are limited, and the survival rate is very low. Early symptoms include:
A cough that is getting worse and lasts for weeks
Coughing up blood or dark phlegm
Shortness of breath
Chest pain
Hoarseness in voice
Pain in bones
Unintentional weight loss
Early detection saves lives and screenings for lung cancer are available within the local community. HSHS St. Anthony's Memorial Hospital, for example, offers a low-dose CT lung cancer-screening program for the early diagnosis of lung cancer. Studies show that 75 percent of lung cancer patients are first diagnosed with advanced stage disease, which greatly reduces their chance of survival.
"The goal of the screening program is to detect cancer at an early stage, even before a patient may have symptoms. At an early stage, surgery or other treatment options are possible and the cure rate is much higher," Jones said.
The screening is a quick, painless, non-invasive low dose CT scan that can detect nodules or spots on your lung, which might be early indicators of lung cancer. The CT imaging technology uses an eighth of the radiation as that of a standard CT so there is very little risk in lung cancer screening.
Anyone interested in being screened should talk to their physician about the screening criteria, potential benefits, limitations, and possible risks of having a lung cancer screening. If a person has one or more of the following risk factors they are encouraged to talk to their physician about a getting screened immediately:
Be age 55-77 years of age
Have no signs or symptoms of lung cancer
Have a 30-pack years or greater history of tobacco smoking
Be current smokers or have quit smoking within the last 15 years
For more information on the low dose lung cancer screening or other cancer care services at St. Anthony's, visit https://www.stanthonyshospital.org/Medical-Services/Imaging/Lung-Cancer-Screening.
HSHS St. Anthony's Memorial Hospital is part of the Southern Illinois Division of Hospital Sisters Health System, which also includes HSHS St. Elizabeth's Hospital in O'Fallon, HSHS St. Joseph's Hospital in Breese, HSHS Holy Family Hospital in Greenville, and HSHS St. Joseph's Hospital in Highland.