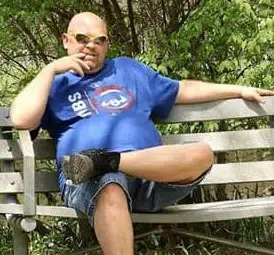 Shane Laverl Oakley, 43, of Greenup, IL passed away on August 17, 2018.
Celebration of Life services will be at 8:00 PM on Wednesday August 29, 2018 at the Jewett Community Church. Visitation will be from 5:00 to service time at the church. Burial will be at a later date in the Toledo Cemetery. The Barkley Funeral Chapel in Greenup is assisting the family.
Shane was born on September 14, 1974 in Effingham, IL. he graduated from Cumberland High School in 1992.  He married Tonya Chapman on August 6, 1994. Surviving is his wife; parents Terry & Cindy (Burton) Wicke of Toledo; Daughters Britty (Steve) Patton of Casey, Shaina Oakley Fiance` Hayden Kanizer of Terre Haute, IN and Jazz Oakley of Greenup, IL; two grandchildren Hunter and Garrett Patton of Casey; Sisters Nicci Bauman and Jamie Stout both of Toledo; Brother Preston Wicke of Florissant, MO; Grandmother Hazel Wicke of Greenup; Mother in laws Jill Kelley and Debbie Chapman; Father in law Duane Chapman; Sisters in law Steph Chapman, Autum Chapman, Leeza Edersheim, Heidi Daniels and Heather Radwin; Brother in law Brome Killhorn. Shane was preceded in death by Grandparents Don Wicke, Laverl & Esther Oakley and Robert & Lorraine Burton; Father in law Terry Kelley.
Shane worked at RR Donnelley for 24 years. In his spare time he umpired Baseball, Softball and Volleyball. He coached his daughters in summer softball for several years. He loved his daughters and grandkids and cherished the time spend with them, Gone to soon but will never be forgotten. Shane loved the Chicago Cubs and the Washington Redskins. Please come dressed in your favorite teams shirt. He was a member of the Jewett Community church. Memorials can be made the Shane Oakley Family c/o Barkley FC box 381 Greenup, IL.  Online condolences can be expressed at www.barkleyfuneralchapels.com