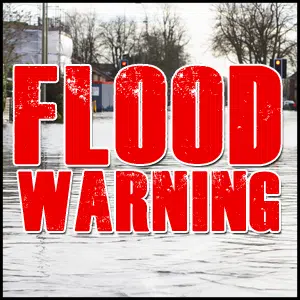 From the National Weather Service:  The flood warning continues for the following rivers in Illinois:  Kaskaskia River at Vandalia
PRECAUTIONARY/PREPAREDNESS ACTIONS… Rainfall heavier than forecast could cause river levels to rise even higher than predicted. The National Weather Service will monitor this developing situation and issue follow up statements as conditions or forecasts change.
Safety message: Never drive cars, trucks, or sport utility vehicles through flooded areas. The water may be too deep to allow for safe passage.
The Flood Warning continues for the Kaskaskia River at Vandalia  from Saturday evening to Thursday September 13.
* At 8:30 PM Thursday the stage was 3.9 feet.
* Flood stage is 18.0 feet.
* Major flooding is forecast.
* The river is forecast to rise above flood stage by Saturday before midnight and to crest near 26.1 feet by Monday early afternoon. The river is forecast to fall below flood stage by Wednesday early afternoon.
* Impact: At 26.0 feet…The Dively and Vandalia Levees begin to be overtopped.